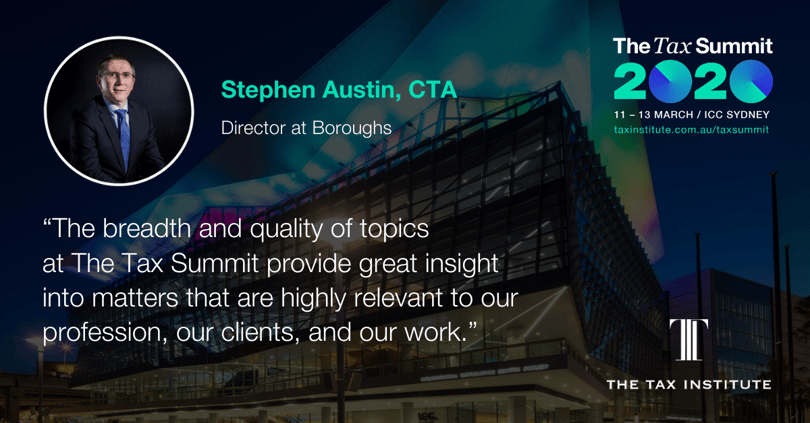 The success of every tax and accounting firm rests on the power and capability of their teams, and what better way to nurture the knowledge of great tax talent than with The Tax Summit, the biggest event for the profession ever launched in Australia. Boroughs Director, Stephen Austin, reveals why the leading Chartered Accounting firm is taking 40 from their team to The Tax Summit.
Future-proofing the next generation of talent
According to Stephen, opening up fresh opportunities to learn, network and upskill is the key to nurturing a 'healthy' tax team, and The Tax Summit supports this on multiple levels.
"Boroughs are fully dedicated to the professional and personal development of our staff," he says. "We take pride in the ongoing investment we have in them through providing training opportunities, such as the Tax Summit, to maintain and enhance the knowledge gained throughout their careers and education."
What drew Boroughs to investing heavily in The Tax Summit was the sheer breadth and variety of speakers and topics. Stephen anticipates this will enable the Boroughs team to gain deeper, more actionable insights across these timely topics.
"There is no other forum available like The Tax Summit that enables our staff to attend such a diverse range of subject matters with high-quality speakers," Stephen adds.
"We give our staff the freedom to select the sessions that they find of interest, which helps maximise the return on our investment. Listening to a speaker on a matter that you are positively engaged with and interested in will always reap greater rewards."
Networking that reaps mutually beneficial results
Another key reason Boroughs decided to take 40 from their team to The Tax Summit is that it opens up exciting new opportunities to network, meet fellow peers, and meet tax professionals that share a mutual client. This helps create a smoother and friendlier peer relationship, which will have a trickle-down effect to better serving client needs in the long run.
"It is not often that staff are able to catch up with fellow peers, some from earlier on in their careers, and some from fellow firms that they have had a mutual client matter with," Stephen explains. "It is always easier when dealing with another firm if you have that familiar, friendly face-to-face interaction. It makes the process so much easier and The Tax Summit enables our team to continue to build and strengthen those professional contacts and relationships."
Education: At The Tax Institute we have developed education to help you upskill, whether you're a new starter or seasoned professional. Download your complimentary information packs on our programs here.
Relevant and premium knowledge every tax team needs
For those firms who are considering taking their teams to The Tax Summit, Stephen encourages them to do so, particularly due to the quality of relevant topics on offer that are highly practical and interactive.
"The breadth and quality of topics on offer at The Tax Summit provide great insight into matters that are highly relevant to our profession, our clients, and our work," Stephen concludes. "Every speaker is knowledgeable in their topic and is able to present in an easily digestible form."
Want to empower your tax team in 2020?
Attend The Tax Summit and discover over 60 sessions delivered by local and global tax experts, across SME, Corporate and Hot Topic streams.
The Tax Summit also includes keynote sessions from the biggest and brightest minds in tax, 90+ speakers, interactive workshops and four new streams: Professional Practice, Emerging Leaders, International and Technology.
With over 1,000 attendees against the stunning harbourside backdrop of the ICC in Sydney, The Tax Summit is the unmissable opportunity to network, refine your skills and take your career to the next level.
Don't miss out. Register for The Tax Summit 2020 today.