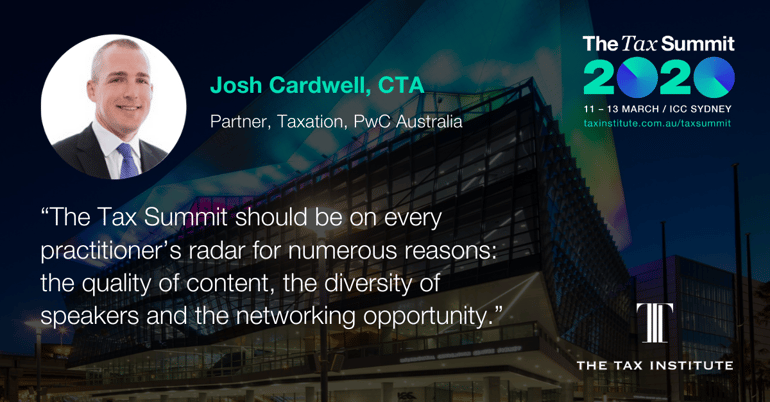 It's an exciting time to be working in corporate, with changes in the international, business and regulatory environment keeping practitioners on their toes, says our 2019 Corporate Tax Adviser of the Year winner Josh Cardwell, CTA and Taxation Partner at PwC Australia.
Speaking to The Tax Institute ahead of The Tax Summit, Josh highlights that he's looking forward to the corporate stream in particular, especially given the breadth and depth of topics covered for practitioners who need to stay ahead of the curve.
"The corporate stream has so many expert speakers, and the topics are really fresh and emerging," he explains. "I also think the international stream is extremely timely, especially given the changes we're seeing coming from the OECD and how they're affecting Australian tax policy. Of course case law and the ATO interpretation of issues, which focus on corporate issues, particularly multinational corporations, are also high on the agenda for discussion."
Premium content for practitioners wanting to refine their skills
According to Josh, The Tax Summit is the premium event ever to be put on by any institution in Australia. With such a laser-focus on hot tax topics and a diverse range of speakers, Josh says it's really valuable for practitioners to be able to pick and choose from different streams and customise their own learning experience.
"I think The Tax Summit should be on every practitioner's radar for a number of reasons: the quality of content, the diversity of speakers and the networking opportunity," he adds. "It means you really can get that the most out of a pretty intense couple of days."
"For younger practitioners, the Tax Summit opens an exciting opportunity to see the breadth of what is involved in a career in tax, and helps shed light on the areas of interest they'd like to specialise in, which helps them further refine their career choices moving forward."
What winning the Corporate Tax Adviser of the Year Award means to your career
Josh is the Head of Real Estate Tax at PwC and has over 24 year's experience, including 14 years at Partner level. He says winning The Tax Institute's Corporate Tax Adviser of the Year in 2019 was a great honour. In particular, it was a chance to reflect on his role and his progression within The Tax Institute and in the broader tax community.
"The whole process of applying for the Tax Adviser of the Year award is also pretty interesting," Josh adds. "Because it makes you think deeply about your role and what your career trajectory really means. I also enjoyed the chance to interact with some of the judges, and understand their different perspectives on the tax profession, which often is hard to see when you're working day-to-day. So evaluating your own career from a different perspective is actually both refreshing and rewarding."
"Winning the Corporate Tax Adviser of the Year Award last year was a great recognition for hard work, but also a reflection of the great team that I work with. I'm just one person in a pretty large team and I think winning is a nice recognition for all of us."
Reflecting on the Awards experience and Gala Dinner, Josh says it was a fun night at a great venue, and a brilliant opportunity to network, enjoy the celebrations and just feel proud to be part of such a great tax community.
Education: Click here if you would like to complete an application to enrol in an Education Program or Single Subject. We will now guide you through the entire enrolment process.
"The awards ceremony last year was a pretty awesome experience, and to meet the other finalists on our table was very exciting," he says. "It was a great opportunity to understand the successes that led them to this point in their career."
"For a relatively new initiative, The Tax Adviser of the Year Award has really raised in prominence in only a short period of time, and I think it has some real recognition now within the industry - so it's a really proud time to be involved."
"Last year it was in Hobart, which was a great venue and I'm sure Sydney this year will be an equally great venue," Josh adds. "It was nice just to get together with other professionals in a non-working environment to enjoy some fun times."
Find out more about the Tax Adviser of the Year Awards at: https://info.taxinstitute.com.au/taxawards
Attendance at The Tax Adviser of the Year Awards and The Tax Summit Gala Dinner is included for all full registrants of The Tax Summit, with additional tickets available for guests or tables of ten.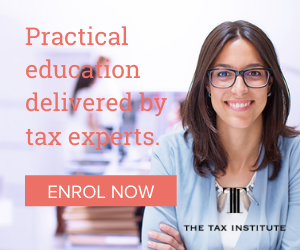 Want to master the skills of a corporate tax leader?
Discover over 60 sessions delivered by local and global tax experts, across Corporate, Hot Topic and SME streams.
The Tax Summit also includes keynote sessions from the biggest and brightest minds in tax, 90+ speak
ers, interactive workshops and four new streams: Professional Practice, Emerging Leaders, International and Technology.
With over 1,000 attendees against the stunning harbourside backdrop of the ICC in Sydney, The Tax Summit is the unmissable opportunity to network, refine your skills and take your career to the next level.
Don't get left behind. Register for The Tax Summit 2020 today.