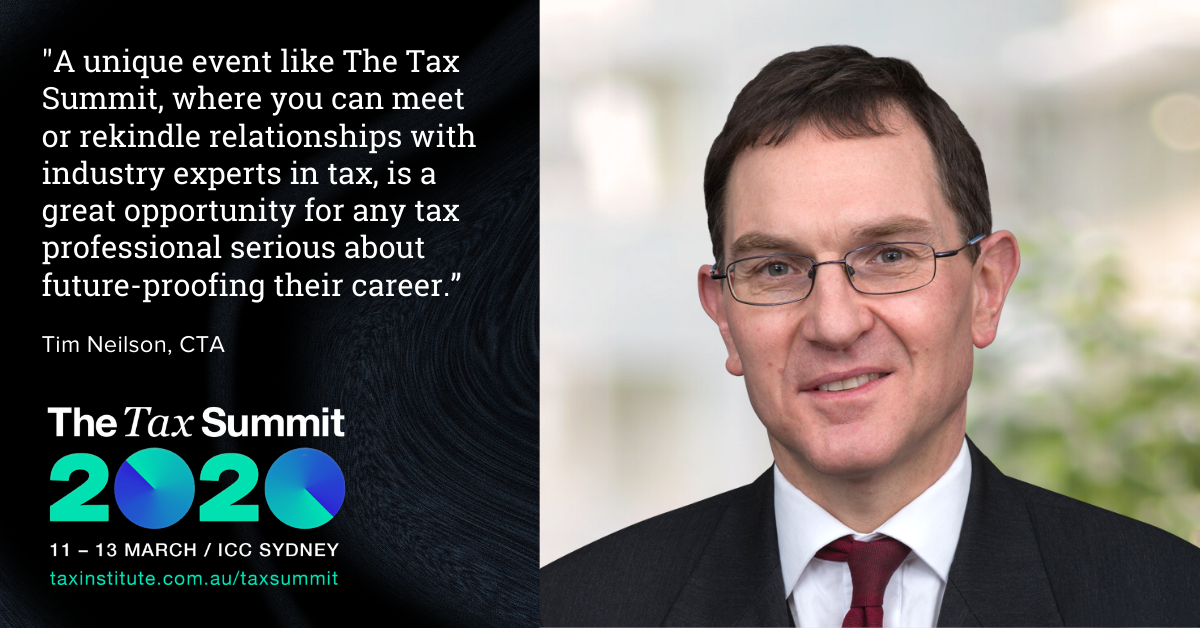 The decade ahead will see the tax landscape face unprecedented change. Regulatory changes, globalisation, digital disruption, geopolitical shifts and emerging technologies mean tax professionals face the pressure of constantly keeping informed of the changing tax landscape while adapting their approach to meeting client expectations.
Ahead of The Tax Summit 2020, The Tax Institute's former President Tim Neilson reveals common challenges that lie ahead and why investing in learning is critical to future-proof your tax career.
Adapting to immense change
Tim emphasises that due to the ever-changing nature of the legal and regulatory landscape, it's critical for practitioners to continually freshen up their knowledge and optimise their tax skills.
"Some of the challenges specific to our sector are keeping up with the ATO issuing guidance, while also keeping abreast of the technical law. So, you're having to manage almost two sets of knowledge and constantly adapt to change," Tim says.
According to Tim, investing in learning and having a genuine appetite to expand your knowledge is key to keeping up with all issues and challenges on Australian Tax, while ensuring you reduce risk and enhance decision-making.
"Well, one of the best ways for practitioners to address these challenges is to be very open to learning about them," Tim says. "We're very lucky at the Tax Institute, that the Australian Tax Office has a great relationship with us. They present at our events and they are very open about what they're looking at and why, while explaining the reasoning behind their decisions and tools," he continued.
Fast-track your learning at The Tax Summit
To fast-track your learning, Tim recommends attending The Tax Summit, a unique event that covers every ground you need to know about Australian Tax, including the hottest topics across digital tax, corporate, SMEs and cross-border activity, just to name a few.
"The Tax Summit is a very efficient way of learning and keeping across all the key topics and challenges facing tax professionals. When you combine that with the sort of expertise of leaders in tax giving you the relevant technical content, then you are getting a very fast, effective way of learning," he says.
Learn from the masterminds
As a seasoned practitioner, Tim says many of the crucial lessons he learned throughout his career, came from the wisdom shared by his mentors. So, when there is a chance to learn from the best, he recommends embracing it will full force.
"It's the most effective way of learning, yet not many people are lucky enough to receive this opportunity," he says.
"So a unique event like The Tax Summit, where you can meet or rekindle relationships with industry experts in tax, as well as other industries, is a great opportunity for any tax professional serious about future-proofing their career."
On top of learning from the best thought leaders in tax, Tim highlights how CPD events at The Tax Summit are also highly technical, which is crucial if you want to brush up on specific areas.
"This year will provide professionals with exposure to engaging workshops, hands-on analyses and practical live demonstrations across all crucial topics on tax," he adds. "We've got a number of different streams that give people a variety of exposure to a range of different experts and leaders in the tax field. So, you get the practical understanding, whilst learning directly from the people who really have been through tax-related situations."
Collaborate, connect and grow
According to Tim, The Tax Summit 2020 provides a truly powerful space for collaboration, connection, and learning and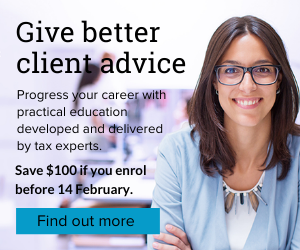 growth.
"It'll be a unique opportunity to be able to select from the smorgasbord and build your own program from the event to give you what you really need," he says. The Tax Summit will be an invaluable opportunity for tax professionals to connect and grow their network, partly because of its sheer scale to meet a whole lot of new people and engage with them.
"The purpose of reaching a strong network of like-minded professionals can help lead organic interactions which is essential for personal and career development," he explains. "And this year's annual event is expected to reach a fresh crowd of like-minded people eager to stay ahead of the curve. It's a fantastic opportunity to meet people from all sectors of the tax community."
"The networking possibilities are endless at The Tax Summit, with professionals from many industries at different stages of their career who gather during this one special event," he says.
Lead your tax team in the right direction
For heads of tax who are serious about providing their talent with the right skills and knowledge to tackle the challenges ahead, Tim says investing in their team to attend at The Tax Summit is critical in order to lead them in the right direction.
"If you're a leader of a tax team and you're wondering whether to bring them to the Tax Summit, I'd urge you to do so. It will be such an eye-opener. You might think, 'maybe they are a bit junior', but it's the ideal environment for them to learn. If you've got talented people working for you, get their minds stretched! Expose them to the leaders and to the best of the tax community at the Tax Summit."
Want to future-proof your tax career?
Attend The Tax Summit and discover over 60 sessions delivered by local and global tax experts, across SME, Corporate and Hot Topic streams.
The Tax Summit also includes keynote sessions from the biggest and brightest minds in tax, 90+ speakers, interactive workshops and four new streams: Professional Practice, Emerging Leaders, International and Technology.
With over 1,000 attendees against the stunning habourside backdrop of the ICC in Sydney, The Tax Summit is the unmissable opportunity to network, refine your skills and take your career to the next level.
Don't get left behind. Register for The Tax Summit 2020 today.