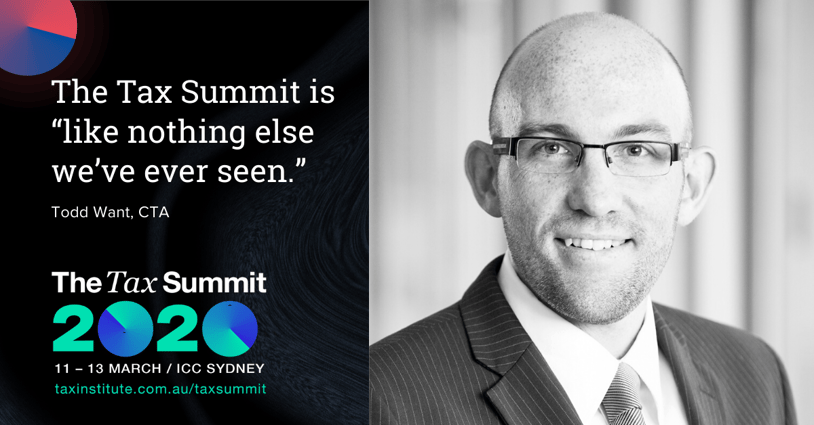 Todd Want, CTA and Director – Tax Services at William Buck is really looking forward to #TheTaxSummit 2020, and says the hardest decision will be which sessions to attend.
Todd is a Director at William Buck and brings over 15 years of experience to his role in the Tax Services division. Todd specialises in SME tax matters and advises clients on a broad range of tax issues such as CGT, advice relating to structuring and restructuring, the tax consequences of acquisitions and divestments, small business CGT concessions, Div 7A, property matters, taxation of trusts and tax risk management.


Todd says that a lot of his clients are in the SME sector, which means they are time poor and keeping up with constant change in tax is a challenge.
"For tax practitioners, dealing with that is just one of the things that a practitioner has to deal with outside of managing client workflows and everything else involved in running a practice," he explains.
"You need to keep up-to-date with reading, so resources like TaxVine, that the Tax Institute delivers each week, is a good way to keep on top of things generally.
"However, CPD at The Tax Summit in particular, where it is tailored to all parts of our membership and entities, is delivered by experts in the profession who do have the practical knowledge to do it."
Todd says tax practitioners should know that they are getting their information in the right place at The Tax Institute, which will then help those practitioners to run their businesses.


"Like nothing else"
We asked Todd how he's feeling about The Tax Summit.
"I'm really excited - this is like nothing else that the Tax Institute has ever done," he says.
"The event is on a whole new level, and I think the program itself is like nothing that people in the world of tax have ever seen in Australia.
"The fact that the program has something for everyone is what really excites me, as well as the venue and attendance of a broad cross section of the world of tax."
About Todd's session
"I'm co-presenting a session with one of my colleagues here from William Buck, Charis Liew. We've worked together here for over a decade at William Buck," he says.
"She heads up our superannuation department, I'm involved as one of the directors here in our tax team, tax consulting team, so we're going to cover tax implications on relationship breakdowns.
"It's not usually a pleasant time for an advisor to be dealing with their clients because there are usually a lot of emotions flying around and a lot of issues to deal with."
Todd says the session will pull together a lot of those issues and go through his practical experience dealing with clients, some of the technical issues to address, practical ways to look at it, and how to help clients going through that unfortunate time in their life.
For practitioners, by practitioners
"One of the things that is at the heart of The Tax Institute is that it is a body that it is for the members and the members are the people who are delivering these sessions," he says.
"If you look across the program, there are certain sessions where, for instance, the Commissioner's speaking, and various academics and the like, but the vast majority of our sessions are run by practitioners."
Todd says practitioners are dealing with these issues, day in, day out and are able to interpret those in a real-life scenario.
"The program itself has something for everyone," he says.
"A professional can come along to the Summit, over the course of the three days and obtain a huge amount of CPD in the one place from the best minds in tax in the country.
"Technically, these are the best people in their field. There's something for everyone at each time slot and choosing which one to go to is probably going to be the hardest decision."
With multiple streams running at the same time, Todd says you can divide and conquer.
"Some of your team members can go to one session, others to others, and check in with one another afterwards," he suggests.
"Or a topic may be so important that you need multiple people to really sit there, and listen to it, and then chat through it.
"The thought-provoking ideas that come out of it mean that it's a great way for the most junior through the most senior members of a team to really come together."
Networking for all
Todd says networking is a huge opportunity at The Tax Summit.
"The networking side of it is something that really brings the whole thing together," he says.
"I've always been a fan of bringing my team, from the most junior people in the team right through to the most senior.
"I've always brought them along to the New South Wales Tax Forum, and then given that The Tax Summit is taking that to a whole new level, my team is very excited because there's something there for everyone."
Todd says it's a really exciting time.
"The Summit itself will bring together some amazing content, it'll bring together some amazing speakers, and I think it will more importantly bring together an amazing bunch of tax people who are there to make sure that the tax community is moving forward in a positive way," he says.
"Attendees will be able to obtain huge benefits, be it in technical knowledge, be it in networking, be it in other opportunities.
"This event continues to build on the great work that has happened over previous years with Forums and National Conventions and so on. This is just taking it to a whole new level."
What is the Tax Summit?
The Tax Institute is combining two flagship events (National Convention and The NSW Tax Forum) into what will become the most significant tax program for tax and accounting professionals in the region.
This event is one members and non-members alike won't want to miss. This is ground zero for our profession; the central point from which everything else revolves around.
There will be more than 60 sessions delivered by local and global tax experts, across SME, Corporate and Hot Topic streams. The Tax Summit also includes keynote sessions and four new streams: Professional Practice, Emerging Leaders, International and Technology.
Not to mention National Convention's hugely popular networking events, the Welcome Reception, and Gala Dinner featuring The Tax Adviser of the Year Awards.