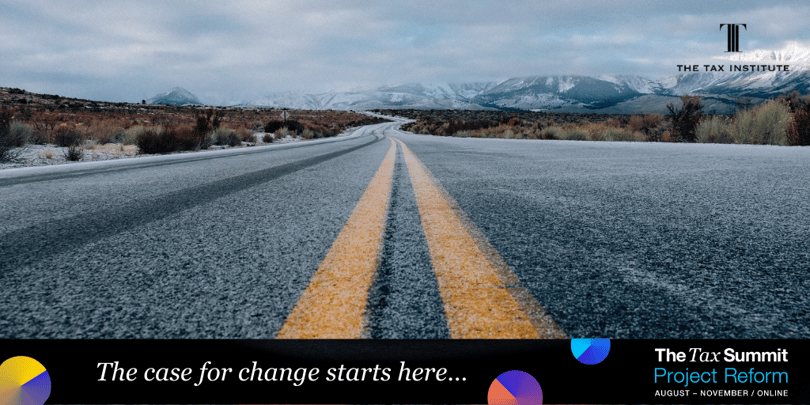 You're likely aware that we recently wrapped up one of the biggest events in The Tax Institute's history – and perhaps the biggest online event we have ever held – The Tax Summit: Project Reform.
The Tax Summit: Project Reform began at the end of August, and consisted of:
20 Lead-in events, including 6 Keynote Speaker addresses (plus 2 bonus keynotes from the 2020 National GST Intensive Online and 2020 International Tax Series), 8 Focus Session webinars and 4 Roundtable Discussions;

Our 2-day Virtual Summit, including nearly 50 speakers in 13 plenary sessions, plus 2 end-of-day wrap up sessions; and
Nearly 100 speakers stepped up to the mic over the course of the lead-in event series and Virtual Summit to contribute their ideas, questions, insight and experience.
Our team of dedicated volunteer technical committees were instrumental in allowing us to gather comprehensive and useful insights from the Project. Our members wrote in with ideas, questions and opinions, whether live during webinar sessions, or through other avenues. This truly was a testament to the strength and passion of our members and volunteers – so thank you.
However, it's not over yet. While this was an incredible start of the tax reform journey, our real work of advocating for significant and real change in our broader tax system is only just beginning.
Tax reform is a long game
As we have said before, the path to meaningful and lasting reform isn't a quick one.
In the words of our Director, Tax Policy and Technical, Andrew Mills, CTA (Life) from his recent TaxVine preamble, "This is a comprehensive program of work that will take time, deep thought and proper engagement to ensure we produce a compelling set of reform proposals to inform future tax policy in this country."
We're committed to seeing this cause through to a resolution that creates real, positive benefits for our members, the tax profession and our society as a whole. That may take months, it will likely take years.
"Ultimately, a better tax system, one that makes practitioners' and taxpayers' lives a little less taxing, is one of the key purposes of The Tax Institute and why being a member continues to be so important. These are both exciting and challenging times and The Tax Institute is committed to rising to the challenges and opportunities these present," Andrew wrote.
At the Virtual Summit event this November, NSW Treasurer, the Hon. Dominic Perrottet MP, spoke about the need for tax reform in a panel called, Running the Gauntlet… How to effect change? Listen to a snippet below.
The Case for Change
Our goal throughout this entire endeavour, has been to produce a paper titled A Case for Change, which will lay out the priorities and potential paths of reform, as defined by the profession itself. After all, who knows the tax system better than those who work with it every day?
Work has already begun on collating and analysing the insights gleaned over the past months. In his preamble, Andrew outlined the work being done to put together our Case for Change:
"All event sessions have been recorded and many transcribed to ensure there is a back up to the extensive notes taken of key points emanating from each event. The work of the technical committees has also been assembled in accordance with the structure that was developed through the course of the project. Further input may be sought from those committees as issues arise and ideas are teased out. In fact, it seems that many of our committees are treating Tax Reform as 'business as usual'.
While the core document development is undertaken, there will be a strategy developed around communication and further stakeholder engagement. This will not only help support the prosecution of The Case for Change, it will also position The Tax Institute and our members, as the thought leaders when it comes to tax. That ongoing thought leadership activity will continue throughout 2021."
Thank you again to all the speakers, committee members, volunteers and members who made The Tax Summit: Project Reform possible. With your support, we will continue to advocate for meaningful change in our tax system.
Want the full insights from The Tax Summit: Project Reform? Keep an eye out for On Demand recording bundles coming soon!