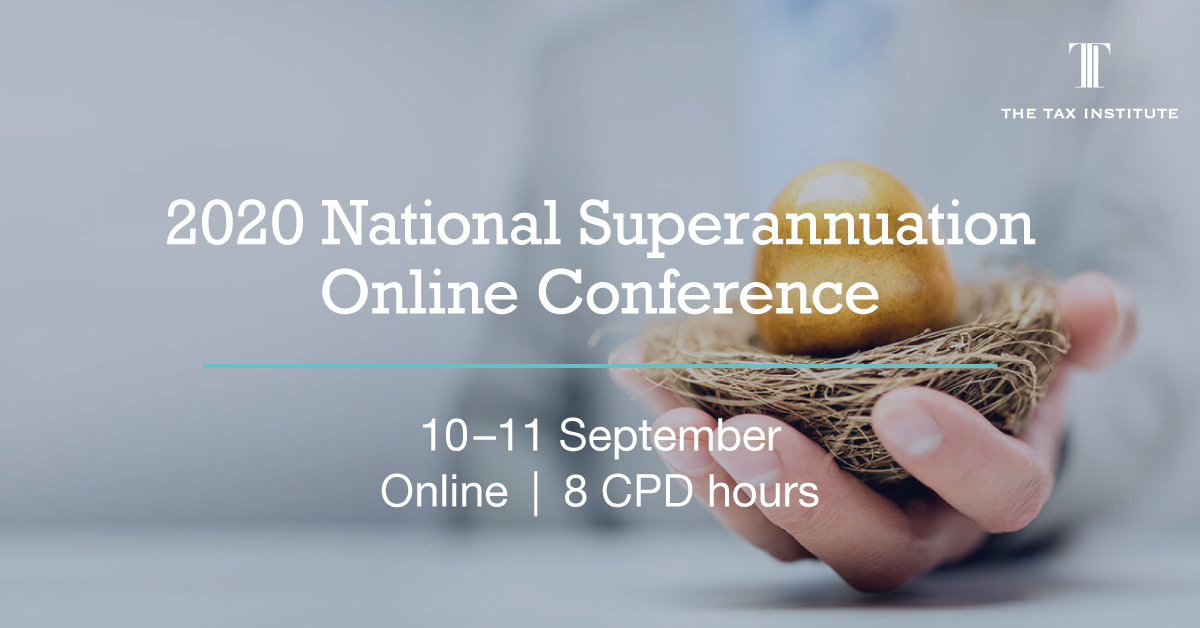 Now in its eighth year, the National Superannuation Conference is recognised as the leading event for tax practitioners specialising in superannuation. Sessions deal with issues facing both the large fund and self-managed superannuation fund sectors, in a program of practical, real-world applicable presentations.
This year, the event promises a line-up of superannuation experts – both leading practitioners and regulators - from the legal, accounting, audit and financial advisory services fields. It will also be held exclusively online, in a digital format that recreates the conference experience.
"Earlier in the year we moved our professional development events online as a response to COVID-19 but maintained the calibre of our presenters and insights. With this event, we're aiming to ensure delegates can once again enjoy the conference experience as much as possible," said Leanne Carter, The Tax Institute Regional Manager.
The virtual conference experience
The 2020 National Superannuation Online Conference, like past face-to-face conferences, is split across two days of insightful tax technical sessions. Sessions are divided into two streams, SMSF and Large Funds, so delegates can tailor their experience to their interests and focus areas.
Planned virtual networking sessions also allow attendees to mingle with their colleagues from around Australia, creating an opportunity for connection – even from behind a screen.
"The structure of this event closely mimics our face-to-face conventions, including networking opportunities and different sessions you can choose to attend," Leanne said.
"If you've been missing the experience of attending a Tax Institute conference with like-minded colleagues and having the chance to create connections alongside brushing up on technical knowledge, this is the event for you."
This year, delegates can choose to attend the live sessions to interact with presenters and their fellow professionals, or access any of the event materials, including recordings, presentation slides and technical papers, at a time that suits them.
Keynote sessions – not to be missed
With a total of fourteen sessions spread over the two-day event, the 2020 National Superannuation Online Conference covers a wide range of topics, relevant for any superannuation focused practitioner.
For SMSF specialists, topics range from dealing with lumpy assets in SMSFs with Craig Day from Colonial First State, to a discussion of property development by SMSFs and the SMSF Regulator's Bulletin SMSFRB 2020/1 with Phil Broderick, CTA, from Sladen Legal.
Some key sessions large fund specialists can look forward to include a panel session covering US tax issues for large Australian superannuation funds and an update from the ATO's Nadia Alfonsi on outcomes of the SAR program, perspectives around fund tax governance, and issues concerning remediation or compensation arrangements.
The two event keynote sessions are delivered by industry heavy hitters, covering both a regulatory and practitioner perspective.
Day 1 Keynote:
Economic outlook – Implications for the Superannuation Industry | Craig James, CommSec
Where does the superannuation sector stand amidst the economic fallout from COVID-19? Craig James, Chief Economist with CommSec is set to delve into this topic in his keynote address on Day 1 of the conference.
Craig will discuss the current economic climate and the impacts of COVID-19 on the economy, touching also on his views around tax reform, a critical issue for our profession as a whole.
Day 2 Keynote:
Live Q&A | Senator the Hon Jane Hume, Assistant Minister for Superannuation, Financial Services & Financial Technology
Taking advantage of the digital delivery of this conference, Senator Jane Hume's keynote address will be pre-recorded and made available to delegates prior to the event. She will discuss the proposed aspects of taxation policy affecting the superannuation industry and the degree of crossover between taxation and broader regulatory settings affecting superannuation funds.
On day 2 of the event, Senator Hume will then lead a live Q&A session to answer questions and expand on topics covered in her keynote address. Register early to access the recorded session and pre-submit your questions to ensure your queries are covered.
Event details