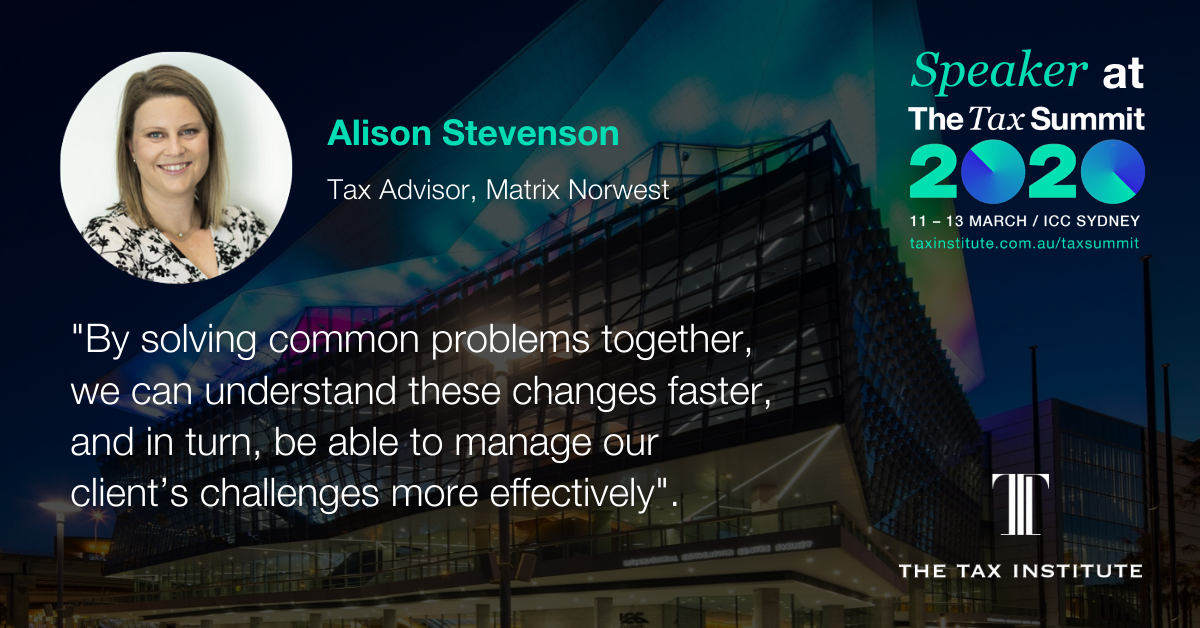 The 'moving economy' has signalled a significant shift in the challenges facing the SME sector. Alison Stevenson, Tax Advisor at Matrix Norwest, reveals what she sees as the important issues facing practitioners who work with SMEs, and why she believes The Tax Summit is critical for any forward-thinking professional who wants to be across the latest critical tax issues affecting their practice.
Q: What are some of the top SME regulatory changes that will affect SMEs in 2020?
Alison: The SME market in 2020 is facing a number of pressing issues. There's the constant challenge of keeping up with legal and regulatory change and dealing with compliance, on top of the constant pressures SMEs face in the day-to-day running of their own business.
Right now, it's about the moving economy and it's about small businesses, and so many of them now need to look at where they fit in across international markets. Once upon a time, this global domain used to be occupied only by big businesses and multi corporates, but the international world is now open to firms and businesses of all sizes and across so many different industries.
So, when you've got lots of different players in the community needing to work their way through the minefield of international tax, which is constantly changing, then things can get pretty interesting!
Q: Looking at the future of tax in Australia, what do you see as a top trend for 2020?
Alison: I've always found tax pretty exciting and the trends fascinating. We have the digitisation of the economy. All businesses are struggling to keep up with regulation, everything is converting to 'digital' and the pace is becoming faster than ever before.
But at the same time, we've got a thriving economy, there's always things changing, and we're constantly learning so we can assist clients, especially in the SME market, as they're growing and developing so quickly and we need to grow and develop really quickly with them.
The Tax Institute offers the best learning environment for me and my staff as professionals, it equips us with the right skills and knowledge and enables us to better help our clients.
I think that's why it's important for professionals to be involved in The Tax Institute. They can be across both regulatory change and discuss with like-minded professionals the commercial impact. By solving common problems together, we can understand these changes faster, and in turn, be able to manage our client's challenges more effectively.
The Tax Summit really showcases how The Tax Institute recognises the importance of educating tax teams in a supportive environment, with so many experts, leaders and professionals sharing their passion and ideas in tax.
There are so many exciting opportunities available to network at The Tax Summit and the Tax Institute's educational programs for emerging leaders are relevant to all leaders and professionals in the industry. The Tax Summit will also cover SMEs and the digitisation of the economy/tax with a focus on some fantastic current themes.
Q: Why are you taking your team to The Tax Summit?
Alison: I'm looking forward to The Tax Summit because there will be so many speakers and great ideas and it's not just about the technical components of tax, but it's about networking opportunities and being surrounded by so many like-minded professionals.
I see it as an opportunity for myself as a business owner, and for our staff, who will not only get further education, but also learn networking skills and more about the profession from other professionals.
I can't teach them everything, so I need to encourage them to get out and learn, and what better environment than The Tax Summit!
I also think The Tax Summit is not only for the tax professionals that have been working in tax for years, it's also about engaging with all members of The Tax Institute, including those who have just started their career.
Because everyone brings to the table fresh ideas and experiences and everyone can learn from The Tax Summit. There's something for everyone whether it's about attending the Emerging Leaders' stream if they're relatively new in the profession, or engaging in the higher-level, technical topics.
Q: Why should metropolitan tax practitioners attend The Tax Summit?
Alison: There are so many small and medium firms dotted across the metropolitan regions that don't usually get a chance to talk to each other. I think The Tax Summit is really great at bringing these like-minded tax professionals together to help us solve common challenges together.
For instance, our firm is in Norwest Business Park and not the CBD. So, it is sometimes difficult to come across like-minded people to bounce ideas around with, and see where others are heading in the way they help clients and manage their business.
So, having a three-day Tax Summit, where we have an opportunity to be surrounded by not only the big tax firms, but businesses that are our size and are more 'metro-city based' is really exciting. We can see things that so many other practitioners are doing in their own practice to prosper and serve their clients. It's a really great opportunity!
Want your tax practice to shine in 2020?
Attend The Tax Summit and discover over 60 sessions delivered by local and global tax experts, across SME, Corporate and Hot Topic streams.
The Tax Summit also includes keynote sessions from the biggest and brightest minds in tax, 90+ speakers, interactive workshops and four new streams: Professional Practice, Emerging Leaders, International and Technology.
With over 1,000 attendees against the stunning harbourside backdrop of the ICC in Sydney, The Tax Summit is the unmissable opportunity to network, refine your skills and take your career to the next level.
Don't miss out. Register for The Tax Summit 2020 today.