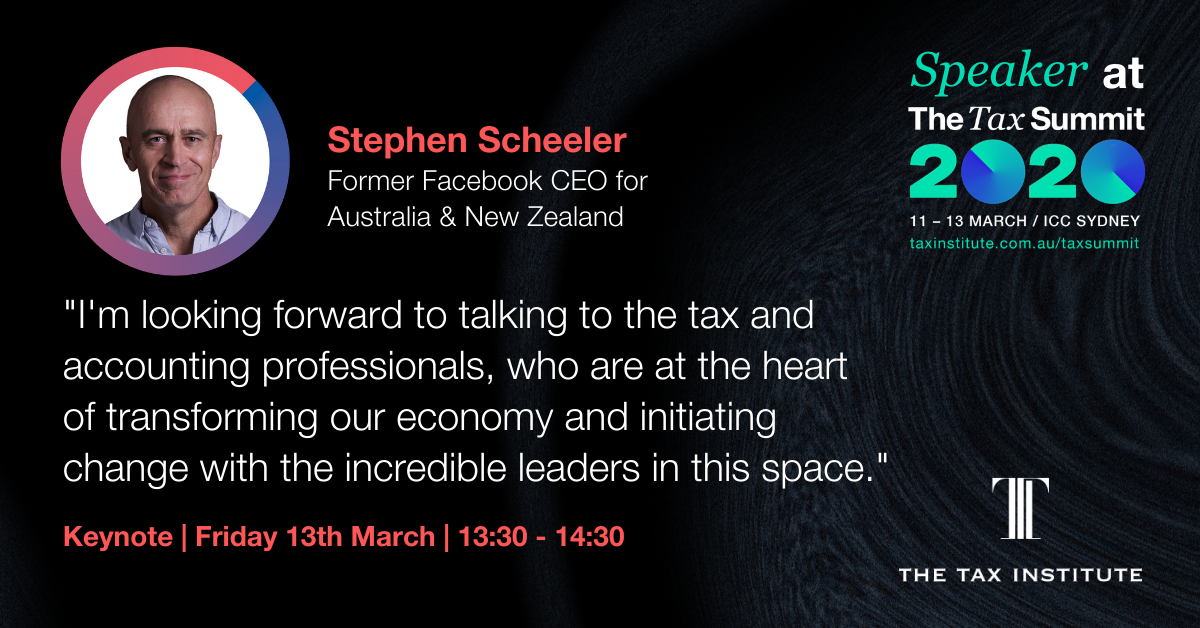 Rapid shifts in technology are transforming the way we conduct business and are set to impact the heart of the Australian economy, says former Facebook CEO, Stephen Scheeler.
Ahead of his keynote speech at The Tax Summit, Stephen shares his timely insights on why it's time businesses stop fearing technological change and start embracing a new and exciting era of innovation.
The challenge for businesses to keep up with technology
As the disruptive landscape of technology continues to accelerate and emerging innovations take off, advances like robotics, data systems, and cloud-based solutions are making us rethink conventional business structures, the way we work as well as the way we communicate with each other, Stephen reveals.
"I think businesses are always behind the eight ball in terms of keeping up with technology," Stephen says. "But what's changed recently, is the sheer rate at which technological change has accelerated. The main challenge we have now is understanding these rapid shifts and how they can leapfrog into better decision-making."
The impact of

artificial intelligence

and machine learning – friend or foe?
According to Stephen, artificial intelligence (AI) and machine learning have already helped businesses improve efficiency and streamline workflow processes. Longer term, Stephen sees AI and machine learning helping to improve even more complex, higher level decision-making and significantly improve business outcomes.
"These innovations can enable better data-decision making at a scale that the human brain alone could not achieve," he explains. "This new age of 'augmented human decision-making' can also help us understand large sets of data and better predict potentially complex issues that could occur."
"Simply put, I think machines are going to help replace some of the tasks that are time-consuming and manually intensive, to let us focus on the things we are really good at."
How VR/AR will impact how we conduct business and communication
In the past few years, virtual reality and augmented reality had been hyped up to be something 'we'll only see in the future'. But the reality is, VR and AR have already been integrated in educational programs, simulators and entertainment. According to Stephen, it's only a matter of time until these innovations will also transform the way we communicate and conduct business together.

"We spend a lot of time, money and fuel getting on cars, planes or public transport and moving around the world, particularly for business," Stephen says. "VR can create an environment that feels real, physical and an environment that's probably going to significantly change how we conduct business. This is especially the case for VR, which can be integrated in everyday actions such as audio phone calls or web conferencing."
Stephen predicts these real-time, immersive experiences will add more value to businesses and save con
siderable time and money. In particular, he sees AR and VR as enhancing information absorption while improving consumer
experience
s
.
"AR and VR, I think, are going to be profoundly game-changing for many industries," he adds. "It remains to be seen how that will play out but come back to me in 10 years and I think we'll have a lot of examples to talk about."
Managing

bi

g

data while maintaining privacy and security
In the age of big data, privacy and security remain top of the agenda, especially as data is now seen as the 'new oil', Stephen says. However he also stresses data protection standards have come a long way, especially as regulation and cyber security strategy tightens around the world.
"For businesses who want to leverage their data to improve outcomes, you need to understand what data you already have, how you're organising it, plus how accessible, 'clean' and useful it is," he explains.
"Sit down and ask yourself those hard questions – what key business outcomes do you want to achieve from your data, and how will it impact your clients or customers? But whatever decisions you make, transparency, privacy and security always have to remain top of mind."
Facebook, Google and Amazon: disrupting the way businesses operate
According to Stephen, only a few years ago, a cloud-based computer program would entail an orchestrated crew of data scientists, complex servers and software builders, costing millions of dollars. But today, you can easily access highly sophisticated, robust cloud services from companies such as Amazon, Google or IBM for just a few dollars a month. This rapid shift has transformed businesses globally and is opening opportunities for us to have virtually unlimited access to information, tools and resources.
"We're seeing a democratising of data and software that was unimaginable a few years ago," Stephen adds. "We've opened up new ways of transacting, as well as fresh customer segments and exciting business opportunities for certain industries that weren't accessible to them before. Yet despite these incredible changes, too many small businesses I see today still don't realise this potential and that can't see beyond the customers or clients that are in front of them."
Autonomous vehicles, drones and the future of work
Moving forward, all these technological changes will continue to 'speed things up,' and this is set to significantly impact the future of work, Stephen says.
"Decisions are going to be made faster, companies are going to rise and fall faster, products and services are going to be obsolete faster, customers are going to change their preferences faster, and all that is going to speed up the pace of which business operates," Stephen adds.
One example Stephen shares is the rise of autonomous vehicles or drones, which will make it easier and cheaper for individuals or items to move from place-to-place. This could be a game-changer for every kind of industry around the world, particularly those that rely on physical infrastructure to deliver things or move people around.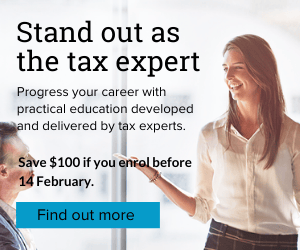 "This profound change will be reflected in how we live our lives, build our cities, build our societies and ultimately, how businesses will operate globally," he says. "The idea of the unimaginable being possible, is what drives these inventions to become reality."
Maintaining the competitive edge in the coming decade
Technology is set to change the entire Australian economic landscape so quickly that companies that fail to adapt simply won't maintain their competitive advantage. Stephen stresses that this decade ahead, businesses will need to stay ahead of the curve and embrace innovation, while putting the systems and processes in place to ensure a smooth transition into a digital-first environment.
"The challenge for existing businesses is to make those transitions more efficiently, embracing an innovation-first mindset and moving away from legacy ways of working," Stephen says. "This is not easy to do, but it's something every business has to do to stay afloat for the future."
Why attend Stephen's talk at the Tax Summit?
According to Stephen, The Tax Summit is a fantastic opportunity to deep-dive and understand how our tax and economy systems fundamentally work in this fast-paced digital environment.
"The way that our tax and accounting systems work is essentially the bloodstream of our economy," Stephen says. "But we're not going to make changes in technology, our industries and across our economy unless we make changes in the way our tax and economy systems work."
"I'm looking forward to talking to the tax and accounting professionals, who are at the heart of transforming our economy and initiating change with the incredible leaders in this space."
Despite the information overload and uncertainties of the future, Stephen emphasises not to be fearful of digital transformation but instead, to embrace the endless possibilities it holds for improving business outcomes. Moving forward, he encourages everyone to do their part to drive change in their business or organisation and to start taking more 'ownership' of their digital transformation strategy.
"Technology is not that hard, it's actually just another tool in your tool kit to help create value for your customers and transform your company," he says. "The changes ahead are some of the most exciting things any company has ever faced and it's the best time ever to be in business. So, when you get back to the office on Monday morning, you can be the catalyst for change in your business, so don't leave it to somebody else."
Don't miss Stephen Scheeler's keynote, The Digital Invasion - An Insider's Guide to the Coming Revolution at The Tax Summit 2020.
In this visionary keynote at The Tax Summit, Stephen shares inside stories about how the tech giants think about innovation, where they are placing their bets for the future and, most importantly, what all this means for the future of consumers, business and society.
The Tax Summit is biggest tax event of the year, with over 60 sessions delivered by local and global tax experts, across SME, Corporate and Hot Topic streams.
The Tax Summit also includes keynote sessions from the biggest and brightest minds in tax, 90+ speakers, interactive workshops and four new streams: Professional Practice, Emerging Leaders, International and Technology.
With over 1,000 attendees against the stunning harbourside backdrop of the ICC in Sydney, The Tax Summit is the unmissable opportunity to network, refine your skills and take your career to the next level.
Don't get left behind. Register for The Tax Summit 2020 today.