Mark Bradford, CTA was named Chartered Tax Adviser of the Year in 2016.
He tells us why applying was so worthwhile and offers his advice for those looking to apply in 2020 in this post.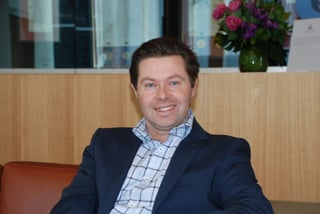 Mark Bradford, CTA
Head of Taxation at Qantas, Mark says winning the title was certainly noticed within the tax profession and by fellow colleagues.
"
The calibre of finalists and past winners made the award more prestigious and humbling," he says.
"It was a personal badge of honour to be fair, and a recognition of my
team as much as me.
"I was also able to include a special Institute 'Chartered Tax Adviser of the Year' email signature for the next 12 months and that also helped!" he laughs.
Mark remembers travelling to Melbourne for the Gala Dinner, dressed in
black tie.
"I was actually very nervous," he admits.
"I prepared an acceptance speech, but to be honest I did not think I would need to use it as I had assumed that Tony Frost of Greenwoods & Freehills would win it over me!"
When Mark was crowned Chartered Tax Adviser of the Year, he says he couldn't believe it.
"I was one of the few finalists named that was in commerce and not the profession and I honestly did not expect to win," Mark explains.
"I gave my short thank you acceptance and received a few laughs – so it must have gone ok!
"I can't remember what I said, but it was very humbling and daunting to stand in front of more than a thousand fellow tax professionals and be recognised as a winner amongst them."
Mark says his experience of the Tax Adviser of the Year Awards process was a worthwhile one, which he will always look back on with a sense of achievement.
"It certainly looks good on the CV," he says.
"Most of my colleagues have congratulated me and it ticked a KPI box which also helped in a very tangible way."
While Mark says professionals should be reflecting every 12 months anyway on their KPIs, the awards process forced him to reflect on a more technical perspective more so than a professional or commercial one.
"During that period there was a number of things that we had done, including the ability to get the capital return back," he says.
"I was one of the first people who had done that successfully with the ATO, so I guess it paved the way for others to challenge the status quo on that technical point."
Whilst Mark was nominated for the award, he still had to submit copies of work he had done and take the time to answer the questions on the form.
His advice for potential 2020 Tax Adviser of the Year Awards applicants?
"Don't sell yourself short," he says.
"Look for ways to differentiate yourself against your peers by demonstrating work that you have done that sets you apart.
"Apply now! I certainly did not expect to win when I applied and in hindsight I am so glad I took the time to do so."
Applications for the 2020 Tax Adviser of the Year Awards close 20 October 2019.
Be recognised by your peers in Australia's most prestigious awards program for tax professionals.
Apply now, or nominate a colleague, for the chance to be honoured amongst the best and brightest in the Australian tax profession.