Antoinette Elias, CTA, who heads up the Oceania Wealth & Asset Management Sector at EY, explains what the Chartered Tax Adviser designation means to her.
Antoinette Elias is Oceania Wealth & Asset Management Sector Leader at EY and has been a tax professional for over 34 years. She was also a 2017 finalist in the Chartered
Tax Adviser of the Year Award
.
"What I enjoy most about tax is the fact that it always changes," she says.
"It's challenging. I love working with clients and helping to find solutions to their problems.
"I also love being involved in tax policy, that forward-looking pace where you could actually make a difference in terms of how the law should operate and what the future role is for tax."
Antoinette says tax is going to be more front and centre than ever before as it is now a topic that the public talk about.
"That's quite different to even as early as five years ago," she says.
How membership has supported her career
"The Tax Institute has helped my career on many levels," says Antoinette.
"First and foremost, it is an outstanding body for tax technical and practical experience.
"I've attended for the last 10 years and every time I go there, I've made the right clients."
At this conference, Antoinette hears about topics that are very relevant for the area that she practices in.
"The topics are fresh, they're current and they're forward-looking," she points out.
"Another way the Institute has helped my career includes when I was a finalist in the Tax Adviser of the Year Award in 2017.
"That was a wonderful program to be involved with. I also do attend the Women in Tax events."
Antoinette likes to support Institute events because she thinks quality and the content of what The Tax Institute produces "is first class".


Why the CTA designation is important
"The
CTA designation
, for me, has been excellent," says Antoinette.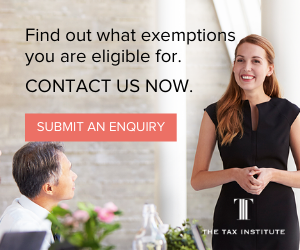 "I add it to my CVs when I'm proposing for client work.
"The CTA designation is a stamp of approval that this is a professional that is serious about tax."
Advice for new practitioners
Antoinette says a career in tax is a very long and challenging career, so she advises new practitioners to persevere.
"Take every opportunity that you get," she says.
"Become interested in the future of tax, not just how it operates today.
"For professionals thinking about attending a Women in Tax event, I would encourage you to attend."
Antoinette says the more professionals development networks, the more they can find different support networks.
"Tax is actually about relationships, and so the more relationships you can build at the earliest stages of your career, the better a professional you will be," she explains.
As for disruption and change in tax, her advice is to embrace it.
"The best way for a tax professional to manage disruption and change is to embrace it," she says.
"The reality is it's upon us. It's not just in tax. It's actually across the entire world."
Antoinette says the sooner tax professionals understand how technology can be a helper and enable their work and lift them from some of the time-consuming roles that they might currently be spending doing, the sooner they can add greater value to their clients.
We're thinking differently about tax education. Modernised learning techniques to help you acquire and apply knowledge more quickly. Time's almost up! Enrollments close Wednesday, 26 February.