Julia Abdalla on why tax education is so important, thoughts on leadership and what she loves about being a member of The Tax Institute.
Julie Abdalla, Associate at Freshfields Bruckhaus Deringer, now on her way to a new adventure in the UK, says that in the face of constant change in the profession, education is a way to tackle challenges head-on.
"Tax is constantly changing, and it's very high on the agenda for politicians, for business, for individuals, for charities," she says.
"Tax advisors still have a very important role to play, even with advances in technology," she adds.
Julie says think we need to see the challenges as an opportunity for what can be done differently; it's about challenging the status quo. It's about adapting processes to take into account these new tools that are available.
Education is one way to get ahead of the game, so to speak.
"I personally think it's so important," she says.
"I think there are many elements to the way you learn and to the way you become a well-rounded tax advisor.
"For me, a huge part of that is the learning that you do on the job, and that's an invaluable part of your experience.
"I also think that's complemented by technical training and formal learning and development," she explains.
"I think that's really valuable, because you learn in a different way in that kind of environment. You learn from different people and their experiences; it's not necessarily the same as what you're doing in the day-to-day," she adds.
Leadership: don't be afraid to fail
Julie says a great leader is committed to investing in their teams and genuinely want to see their juniors do well. These leaders see their teams as a reflection of them, and provide resources needed for their teams to succeed.
When starting out, the confidence to take risks and succeed can be daunting.
"The advice that I would have given myself is to back myself. I think you need to be confident in yourself and trust your instincts, use your intuition, and if you're confident in yourself, it makes it easier for other people to have confidence in you," she says.
"You should give things a go. Don't be afraid to fail."
Julie says, "I would say I've been a very active member of the Tax Institute."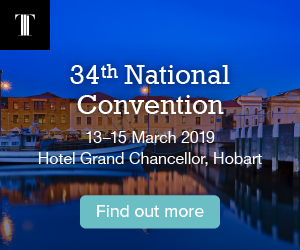 "At the Young Tax Professionals Committee, I saw how things were done, and then I had feedback about what people wanted to see and how things could be done differently, and I brought that to the committee.
"Sometimes it's hard, and sometimes you get pushback, but coming back to my earlier point, you need to back yourself.
"I think The Tax Institute events are really valuable. It's a good way to meet like-minded people and really expand your professional networks.
Julie says Women in Tax events are great opportunity to meet like-minded women.
"I think I really learn from the experience of sharing," she says.
"I share my stories; I hear from other people, and then together, we build each other up.
"I think it's a supportive, and it's a safe environment for people to hear from other people's experiences."
Find out more about the benefits structured education with The Tax Institute can deliver for your career.