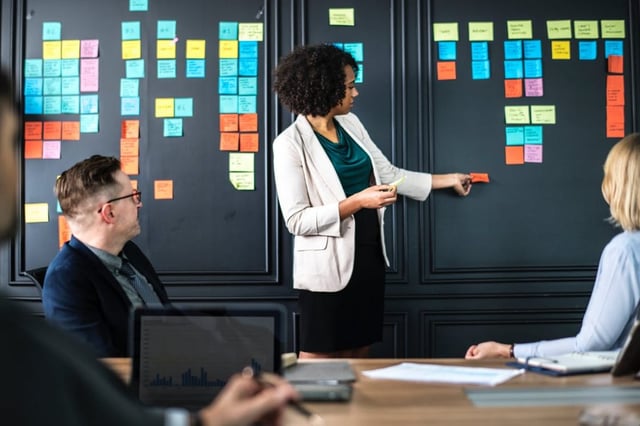 What makes a great leader? There probably isn't a single
answer to this. And that's the beauty of it. Leadership comes in all different
shapes and sizes.
This is what we will explore at the upcoming Women in Tax
National Congress in Sydney.
We caught up with a couple of presenters from our
star-studded line up for the day.
Rhys Cormick is a Manager with Deloitte and was a Finalist in
the 2018 TTI Emerging Tax Star Award. Currently based in Canberra, Rhys leads a
co-sourced team of public servants and consultants to manage the tax affairs of
a major government department.
Rhys is also responsible for the delivery of a national tax
technology product, involving collaboration with colleagues and clients across
Australia, and an outsourced delivery centre. He sees the role of future
leaders in tax to be both forward thinking and collaborative, in order to guide
teams through changes facing the tax world such as digitation and changing work
arrangements.
He will also be a panellist at the Emerging Leaders –
Looking to the Future session at the Congress, alongside Aimee Riley, ATI (EY), Donna Emsies, CTA (HLB Mann Judd), and Julie Abdalla, FTI.
Rhys says that now, after years of long nights… he has finally mastered the art of homemade lasagne.
All jokes aside, he says he's lucky enough to have fallen
into a job that challenges him each day to solve complex problems with law,
spreadsheets and people.
Brigadier Susan Coyle, CSC, DSM, commands the 6th Combat
Support Brigade in the Australian Army. She is an experienced military leader
with over 30 years of strategic, operational and policy experience. She has
over 10 years' experience in senior executive roles in Australia and overseas,
with leadership expertise gained from managing diverse teams in complex and
demanding environments.
She has a reputation as a modern and inspirational leader
who embodies values-based leadership. Susan feels privileged to have commanded
at every rank and her leadership philosophy has always been centred on putting
people first, as it is their people who drive change within an organisation.
Susan is a career Army officer who is proud to serve her
nation, balance her career with being a wife and mother, and seizing
opportunities to make a difference.

She is also this year's keynote speaker.
What is the topic
that you are presenting at the 2018 Women in Tax National Congress?
RC: I am speaking
as a panellist for the 'emerging leaders – looking to the future' session.
SC: I will be
providing an overview on my command philosophy and why values-based leadership
is essential to success to creating
successful teams.
Expanding on what's
covered in the program, what can attendees expect to learn from your session?
RC:

Digitisation in tax will facilitate more flexible and remote work practices.
I hope to share
some of my experience in seeking to maintain relationships with team members
and clients while working remotely, and some skills I think will be necessary
as work practices within tax practices change.
SC:
I
am hoping that my experiences will generate reflection in how you lead within
your workplaces. And potentially offer some examples of how being authentic in
the workplace can be beneficial for you and for the organisation.
What do you think it takes
to be a great leader?
RC: The core
aspects of leadership such as setting a direction and influence others into
action are timeless. Tax practices are founded on people and teams. Any leader
can set a direction, but not many can truly inspire and influence other people
to action.
Great leaders that influence others into action are
authentic and embody the culture and direction in which they are heading. In
order to do this, great leaders are self-aware and constantly strive to empower
their people to grow and develop.
SC: You need to
be authentic, and care for your people. You need to be a steward for the
organisation, and sometimes you need to put the organisation above the
individual.
Are there any tips
you have for those aspiring leaders, seeking to take that next step?
RC: You can
inspire and influence others no matter what your level or title, so don't wait
until you are in a leadership position to start thinking like one.
When people say what attributes the best leaders have, it is
usually attributes such as being approachable,
authentic, empowering and genuine. These are attributes anyone can
cultivate regardless of their position.
SC: Aim higher,
and then aim higher! Everything is an opportunity, be positive and see the
bright side of every day.
As the profession,
and the world around us changes and digitises, are there any tips you have for
leaders in this brave new world?
RC: As tax
lawyers and accountants we are great at tax, but there is a whole lot of new
technology coming our way to disrupt our businesses that we have no clue how to
handle. This change brings with it uncertainty and fear of the unknown.
Current leaders need to guide their people through the
change of digital disruption to reduce the fear and uncertainty, allow people
to play to their strengths, and empower people to learn and adapt to the new
skills required.
SC: The more
senior you are, the more visible you are. Ensure that what you say and do is
considered, deliberate and intentional to have the most impact.