" Great leaders all share one thing in common. They acknowledge that acquiring and keeping good people is a leader's most important role. For me personally, leaders who make a difference are exposed, visible, take courageous action and intentional. Leader development is formal and informal, and should comprise education, training and experience. Development activities are easy to plan, but historically difficult to execute - and often the first thing to be cut when your unit is facing time pressures." - Brigadier Susan Coyle, CSC, DSM
Brigadier Susan Coyle, CSC, DSM, commands the 6th Combat Support Brigade in the Australian Army.
An experienced military leader with more than 30 years of strategic, operational and policy experience, she has a reputation as a modern and inspirational leader who embodies values-based leadership.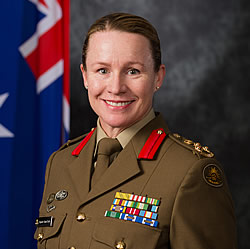 Brigadier Susan Coyle, CSC, DSM
Susan will deliver the keynote address at the 2018 Women in Tax National Congress, where she will share key aspects of her leadership philosophy with a primary focus on the importance of people and values-based leadership.
Susan has progressed in a field that some would view as challenging for a woman, and what has guided her over the period is a value system that aligns with the "Pathway to change: Evolving defence culture".
We spoke to her about her values, her perspective on leadership, and her upcoming keynote address.
"I will be providing an overview on my command philosophy and why values-based leadership is essential to success to creating successful teams. I am hoping that my experiences will generate reflection in how you lead within your workplace, and potentially offer some examples of how being authentic in the workplace can be beneficial for you and for the organisation" she said.
Asked what it takes to be a great leader, Susan told us, "You need to be authentic, and you need to care for your people. You need to be a steward for the organisation, and sometimes that can mean putting the organisation above the individual."
In her address, Susan will explain the background of her values-based leadership approach, including her four priority lines of operation: people first, leader development, strive for excellence, and modernisation.
People first:
Susan believes in teams and people supporting each other in every aspect of day-to-day operations. She quotes a Roman philosopher that supposedly said: "Luck is where the crossroads of opportunity and preparation meet".
Leader development: As Susan says above, Leader development is formal and informal, and should comprise education, training and experience. Development activities are easy to plan, but historically difficult to execute.

Strive for excellence: Susan points to the quote from Colin Powell, retired four-star general in the United States Army, and former US Secretary of State, who once said: "if you are going to achieve excellence in the big things, you must develop the habits in little matters. Excellence is not an exception, it is a prevailing attitude".
Modernisation: Susan believes that as a team, each person should focus on developing capabilities that provide you with an edge over your adversary.
Susan's address will cover these four themes, as well as the positive results she expects from their implementation.
"I hope that delegates are inspired to be the best version
of themselves, knowing that how you lead and manage your team matters, and that
you must invest in mentoring and developing your people. Your people must also
acknowledge that they also have a role in developing themselves, and their
people."
Asked for some parting advice for aspiring leaders, and for
those already there, Susan said "Aim higher, and then aim higher! Everything is
an opportunity, be positive and see the bright side of every day. The more
senior you are, the more visible you are. Ensure that what you say and do is
considered, deliberate and intentional to have the most impact."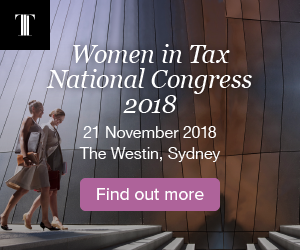 Brigadier Susan Coyle, CSC, DSM, has over 10 years'
experience in senior executive roles in Australia and overseas, with leadership
expertise gained from managing diverse teams in complex and demanding
environments.
Susan feels privileged to have commanded at every rank and
her leadership philosophy has always been centred on putting people first, as
it is the people who drive change within an organisation.
She describes herself as "A career Army officer who is proud
to serve her nation. Someone who has balanced a career with being a wife and
mother, and seized opportunities to make a difference."
The theme of this year's
Women in Tax National Congress
is
the importance of leadership for emerging and aspiring leaders, and current
leaders keen to stay on the pulse for the future. Leadership is changing and we
all need to be ready.
The Congress takes place 21 November 2018, at the Westin
Sydney, and features seven sessions across the day showcasing Australia's most
influential leaders offering their insights and sharing their experiences. Find
out more on our
website
.