The automation of tax tasks and compliance work continues to pick up pace.
Hayley Lock (KPMG) says "As tax practitioners, we need to lead the way in guiding our clients on 'what's next' in terms of ways to improve the operation of the tax function and deliver value for the rest of the organisation."
At next month's Queensland Tax Forum, Hayley presents the session 'Employment taxes and technology opportunities for SMEs', where, in addition to providing an update on developments in the employment taxes space, she will cover the broader implications of continuing automation, and take a look at some of the time-saving tools that are available and their use in the SME context.
Hayley tells us about some of the key themes in this post.
"My session will really be an opportunity for attendees to find out "what people are doing" in employment taxes with regards to the use of technology, particularly automation and data analytics. I hope that everyone will walk away with one or two new ideas to take back to their organisations and some practical tips on how technology can be used for a more efficient and effective employment tax function."
Beyond recent developments in employment taxes, Hayley will look at the impact of the digital economy and the changing nature of work for in-house tax staff and advisers. She will also look at the use of data analytics and robotics, including some specific practical examples on how they are being used.
She said "In addition to guiding our clients on improving their organisation's tax function, we need to ensure that they know how the regulators are using data to identify non-compliance and how best to prepare for these changes."
Hayley Lock is the Partner leading KPMG's People Services tax practice in Brisbane. She works with her clients at KPMG to help ensure they can recruit, develop and retain talented people – particularly senior executives and expatriates.
Hayley said "I'm an FBT nerd from way back, and I've always enjoyed the 'people' side of tax. Working across our global mobility, employment tax and performance and reward specialisations keeps me on my toes - the only constant is change!"
Hayley has more than 10 years' experience both in commerce and within professional services, providing advice on a range of taxation matters, from salary packaging through to how to manage a payroll tax audit.
Over the last 12 months, Hayley has led the development of KPMG's proprietary payroll tax software solution – Payroll Tax Automator. Hayley has also been heavily involved with employment tax data analytics as well as robotic process automation projects for FBT. Hayley is passionate about the use of technology in tax and is working closely with both state and federal revenue authorities to help drive this agenda within industry.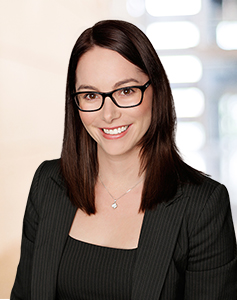 Hayley Lock
"Since returning to Brisbane in 2014, I have presented most years at Queensland Tax Forum. In addition to presenting this year, I'm also looking forward to catching a number of sessions, including the session from Michael Andrew AO (Board of Taxation), the black economy is such a hot topic in tax and our broader community."
Of a life outside of tax, Hayley said "My daughter Alexandra will almost be 5 months old at the time of the Forum this year. So far parenting has been a wonderful, challenging and exciting ride and is keeping me fully occupied outside of tax land!"
The 2018 Queensland Tax Forum takes place 23-24 August, at a brand new venue, W Brisbane.
Part of the new, billion-dollar Brisbane Quarter, W is Brisbane's first new 5-star hotel in 20 years, and has only been open a matter of weeks.
Find out more about Hayley's session and the rest of the program on our website.