The future isn't waiting around for us any longer. In our
everyday lives we're demanding more and more from the organisations we interact
with, expecting access to services online, at any time, in any place, on any
device.
In this digital world, traditional ways of providing revenue
services are no longer acceptable. Around the country, Revenue Offices are
responding by deploying new technologies.
At the
18th
Annual States' Taxation Conference
, Simon McKee (Office of State Revenue
Queensland) and Bee Rojahn (State Revenue Office Victoria) present the session
'
Digital transformation and the state revenue offices
'.
Bee is the Manager of Digital Transformation at the State
Revenue Office Victoria, and Simon is a Deputy Commissioner in the Office of
State Revenue, a division of Queensland Treasury.
Here, Simon and Bee tell us a little more about the issues facing
Revenue Offices.
Bee told us "I will be speaking to 'Digital Transformation
at the Victorian State Revenue Office', why it is necessary, key benefits and
challenges, how we have been and will be implementing it and why it is
important to adopt a customer-centric approach in doing so. I'll be joined on
stage by Simon, who will offer his insights from a Queensland
perspective."
Simon continued "Attendees can expect to learn how we, at
Queensland OSR, are investing in cultural and digital transformation, the
benefits we expect to see, what lessons are being learned, what is being
prioritised, and what is crucial for success."



Around the country, Revenue Offices are implementing digital
strategies designed to guide them in capitalising on increasing ICT
infrastructure to engage more customers in more meaningful ways. From an
improved focus on customers and digital services, to modernising processes and
increasing efficiency and accuracy, this is an era of unprecedented change and
opportunity, but one that comes with risks.
Bee and Simon's session will cover the rationale for digital
transformation and highlight some new technology initiatives which are aimed at
improving clients' and stakeholders' experiences.
Bee said "I will be speaking about current initiatives to
digitise taxation applications, what's on the horizon and some of the key
learnings from our journey. I will also highlight some key best practices in
change management and co-design."
When it comes to potential blind spots in this area, Simon told us
"When embarking on a digital transformation, organisations should recognise
that 'digital' transformation and 'cultural' transformation go together. Staff
must be ready to embrace new ways of working and thinking for transformation to
succeed. This is assisted by introducing leadership capability to manage change
and enable a shift of mindsets; and managing existing priorities and
transformation can be a balancing act. Leaders need to be prepared to divert
resources from other priorities to enable transformation.
Bee said "A lack of consideration for a user's experience
can continue to be a bit of a blind spot for organisations, and this also includes
supportive change management. There have also been cases where data management
has not been fully considered prior to embarking on a digital initiative, so
I'll be touching on some of these areas that can trip up organisations too."
Asked about policy or legislative developments in this
space, Bee told us "There have legislative developments in the area of Digital
Identity that are of interest. I may also cover off on changes relating to the
electronic service of Notices."
Bee said "Ultimately, I hope delegates leave our session
with knowledge of the latest developments in tax digitisation, how they might
benefit them and how to prepare for the changes afoot. They'll take away some key
change management and co-design principles which can be applied in any
business."
Simon added "Attendees should leave with key insights into
setting up a transformation program for success, the types of activities that
are undertaken during transformation, what some of the challenges may be and
how those challenges can be overcome."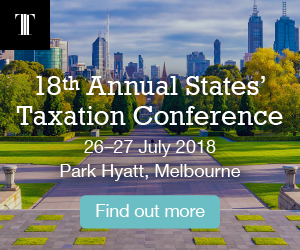 As a Deputy Commissioner in the Office of State Revenue, a
division of Queensland Treasury, and member of the Senior Executive Team,
Simon's responsibilities are to lead the enabling divisions of OSR, including
policy and legislation, objections and litigation, debt management, information
technology services, risk and analytics functions, and relevantly OSR's
Transformation Program.

In her role at the State Revenue Office Victoria Bee
oversees the implementation of the SRO's transformation program and has
successfully implemented a number of digital initiatives in including an online
application for land transfer duty assessment (Duties Online).
The 18th Annual States' Taxation Conference takes place
26-27 July, at the Park Hyatt, Melbourne. This year's program covers recent
cases on valuations and briefing experts, (read our post from John Middleton,
CTA
here
)
the Commissioner's powers of administration (hear from David W Marks QC
here
),
an update on significant cases, and expert panel discussions on duties and
payroll tax.
Find out more about these and the other sessions in the
program on our
website
.