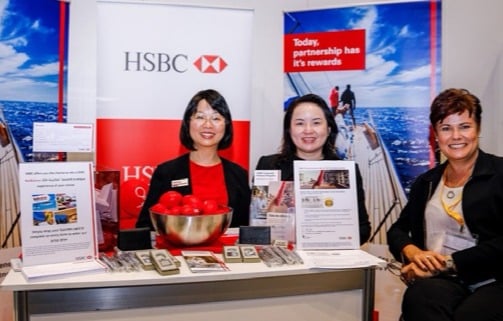 HSBC, a Principal Sponsor of The Tax Institute's 2018 National Convention, is proud to reach its 12th consecutive year of partnering with the Institute. To celebrate, HSBC has enhanced its wide range of preferential banking offers and benefits to Institute members.
Over the past dozen years, The Tax Institute has participated in HSBC's Corporate Partner Program, which includes more than 100 major companies and affiliate organisations, including KPMG, Deloitte, Optus, IBM and Telstra, to name just a few.
In fact, the Institute ranks seventh in HSBC's overall Corporate Partner portfolio, which demonstrates the strength of the alliance, our history of working together, and the popularity of the program's offers among our members.
The partnership has meant that HSBC works closely with the Institute to support our professional development events and enhance our ability to deliver products and services, as well as provide tangible benefits to members.
Institute member benefits
You, as a member of the Tax Institute, can take advantage of this association. You are entitled to preferential personal banking offers, tangible financial savings, specialist information and wealth creation strategies.
HSBC can cover all of your local and international banking needs and offer a personalised service. From a large suite of banking and financial planning options, you can benefit from a comprehensive range of discounts, preferential rates and fee waivers.
Since partnering, HSBC has assisted Institute members with exclusive home loans to the value of more than $86 million dollars nationally.
As an Institute member, you qualify for exclusive personal banking offers throughout the year, and can access dedicated points of contact via phone, web, email or HSBC's branch network. You can also enjoy exclusive savings of $420 per year with no monthly service fees for an HSBC Premier account.
You have probably already noticed HSBC's presence at many of our signature events across Australia, and the special offers and content delivered via digital channels. HSBC has also provided support to the Institute during our busy membership renewals period.
The Institute and HSBC both look forward to continuing our long-term relationship, with HSBC exploring ways of providing additional benefits tailored to our member's needs, along with access to their global expertise.
In the coming year, enticing offers will appear in TaxVine and at Institute events. Educational content to assist members with their personal finance needs is also being developed.
If you'd like to find out more about the benefits available to you as part of the Corporate Partners Program, please contact HSBC on 1300 134 825, drop in to your local HSBC branch, email corporatepartners@hsbc.com.au, or visit hsbc.com.au/taxinstitute.
About HSBC
HSBC is one of the world's largest banking and financial services organisations. It serves around 38 million customers through four global businesses: Retail Banking and Wealth Management, Commercial Banking, Global Banking and Markets, and Global Private Banking.
The HSBC Group's network covers 67 countries and territories in Europe, Asia, the Middle East and Africa, North America and Latin America.
With around 3,900 offices worldwide, the group aims to be where the growth is, connecting customers to opportunities, enabling businesses to thrive and economies to prosper, and ultimately helping people to fulfil their hopes and realise their ambitions.
In Australia, HSBC offers an extensive range of financial services through a network of 40 branches and offices. These services include retail and commercial banking, financial planning, trade finance, treasury and financial markets, global liquidity and cash management and securities custody.
HSBC Bank Australia
Limited AFSL/Australian Credit Licence 232595