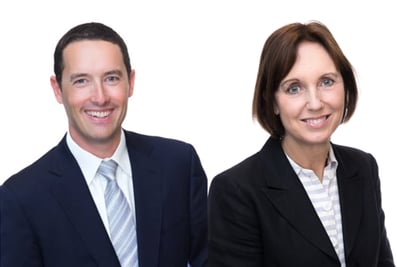 William Sloan and Paula Wilkinson
It's a sad fact of life that many
of your clients will go through a separation, divorce or de facto relationship breakdown. Despite the regularity of these issues, practitioners are faced with
varying degrees of uncertainty on how best to proceed when helping their
clients through what can be a difficult time.
We spoke with William Sloan, Senior
Associate with Kim Wilson & Co, about his
'Tips & traps for accountants'
presentation (with Paula Wilkinson, a
Director of Kim Wilson & Co) at the upcoming
Family
Law Intensive
in Perth on 20 July 2017.
Both William and Paula are accredited by the Law Society of
Western Australia as specialists in the field of family law. William practises
exclusively in this field with a particular focus on financial
matters, while Paula's practice involves complex property
and parenting matters.


William said: "In our session we are presenting a case study that will apply,
in a practical way, some of the technical points to emerge from the other
sessions earlier in the day. The case study will also introduce and cover some
new points not covered by the other presenters".
Designed to provide delegates with an understanding of the
legal steps, from separation through to divorce and property settlement, the
Intensive includes discussion of the available tax concessions and how tax is
dealt with by the Family Court.
William said: "One of the emerging
trends in decisions coming out of the Family Court is an increasing willingness
on the part of the Judges to make referrals to the Australian Taxation Office
and also to make referrals to professional regulators and complaint bodies.
Accountants and other advisers acting for parties who are going through
a divorce need to take care that they do not become collateral damage. The aim
of our session will be to give delegates some practical tips that they can take
back and apply in their day-to-day work when dealing with issues like this."
"This area is full of potential
to become caught in conflicts of interest. Where an accountant or other adviser
has been acting for one or perhaps many entities over a number of years and parties
then go through a divorce, there can be complex and sometimes not always
obvious conflict traps. Identifying and managing conflicts arising from divorce
situations will be one of the topics covered in the session."
Asked about the takeaways from
the session for delegates, William said: "There is a real opportunity for
accountants and other advisers who have been acting for parties for many years
to leverage from the existing knowledge they have about the way the parties'
current affairs are structured and arranged and also the details of historical
transactions. Not infrequently there are disputes, for example, about whether
funds are (or are not) a loan. Accountants and other advisers may well have on
their files and in their historical records documents and other information
that would assist in resolving that dispute. There are many other similar
examples. Clients can benefit from the efficiency of an accountant or other
adviser who already has knowledge of those matters being in communication with
the lawyer that they have acting for them in the family law matter".
William has served a number of
terms as an elected member of the Executive of the Family Law Practitioners'
Association of WA, and is a member of various professional bodies including the Committee of the WA branch of the Society of Trust &
Estate Practitioners, the Law Society of WA, the Family Law Section of the Law
Council of Australia and the Australian Institute of Family Law Arbitrators and
Mediators.
Co-presenter Paula Wilkinson was
a founding Director of Kim Wilson & Co in 1998. Paula has been recognised
by her peers as a 'Preeminent family and divorce lawyer (WA)' in the September
2016 Doyle's Guide Rankings. An adjunct lecturer teaching graduate courses for
the LL.M Family Law program (NSW College of Laws Australia), Paula has also
been elected to the Council of the Law Society of Western Australia, commencing
2017.
Find out more about William and
Paula's session, and the rest of the program, on our
website
.
Join us for the Family Law Intensive, 20 July 2017 at Crown Perth.