On Tuesday and Wednesday this week, the Tax Institute participated in the AFR Tax Reform Summit in Sydney. The Summit involved a star-studded line-up of speakers who discussed tax reform while they stood on shifting sands. In their commentary, there was a strange mix of optimism and scepticism about what the new leadership team in Canberra would be able do on tax reform by the next election.
The reason for optimism is in the fresh brand of leadership on tax at the State and Federal levels of government. The Hon. Jay Weatherill MP in South Australia and Andrew Barr in the ACT (both speakers at the Summit), together with the Hon. Michael Baird MP in New South Wales, are leading the charge on tax reform at the State level. Prime Minister Malcolm Turnbull's early mantra has been that tax reform is at the centre of his efforts to make Australia a more innovative, productive and prosperous economy.
There are reasons for scepticism in the comments of Shadow Treasurer the Hon. Chris Bowen MP at the Summit, who categorically refused to support GST reform on the basis that there is no consensus on how the extra cash would be spent. The economist Saul Eslake argued that the income tax system is like a giant Swiss cheese and that the GST base should not be broadened without broadening the income tax base too. There was also a surprising divergence of views on whether the company tax rate is too high.
Irrespective of the likelihood of "big bang" tax reform in the near future, Stephen Healey, President of The Tax Institute, explained the potential to reduce complexity in our existing tax system. Sitting in a room of business leaders and technical experts at the Summit, one could not help but think what they could have achieved in two days in the real world, in the time they had to spend using their brain power to fix the tax system. The opportunity cost of complexity and its impact on productivity is something that members would be acutely aware of.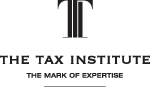 Thilini Wickramasuriya FTI is a Tax Counsel of The Tax Institute.

The Tax Institute is Australia's leading professional association in tax. Its 13,000 members include tax agents, accountants and lawyers as well as tax practitioners in corporations, government and academia.