Matthew Cridland is a Partner in the Tax group of DLA Piper and is based in Sydney. He has advised on GST and other indirect taxes, across all industry sectors, for more than 15 years. He also assists clients to manage indirect tax audits and disputes. Matthew is a member of the GST committees of the Property Council of Australian and the Retirement Living Council. He is also a Chartered Tax Adviser.
What does 2015 Tasmanian State Convention mean to you, and more broadly, to the tax industry?
While I practice law in Sydney, I'm a Graduate of the University of Tasmania. I graduated at the end of 1999 and moved to Sydney shortly thereafter to accept a Graduate position in the GST team at Ernst & Young, about 6 months prior to the commencement of the tax on 1 July 2000. I regularly stay connected with other UTAS graduates. It is a pleasure to be able to return to Hobart some 15 years later to present to the State Convention on GST issues.
What can attendees expect to take-away from the session?
The session will provide an update on the GST issues that most commonly arise for property developments. It can be a complex area and the session will ensure that attendees are up-to-date on the latest developments.
Which other sessions at the 2015 Tasmanian State Convention are you most interested in attending?
I plan to get to most if not all of the sessions. Josh Cardwell's session on property development will be of particular interest.
What do you like to do when not knee deep in tax?
I enjoy following sport, in particular Rugby and NRL.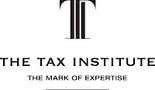 Join us in Hobart for The Tax Institute's 2015 Tasmanian State Convention. It is Tasmania's premier annual taxation event with an outstanding line up of speakers that are sure to educate and stimulate.