The year is well and truly underway and I am sure the holidays are a distant memory for all of us. 2015 promises to deliver much in the tax arena, with the government's long awaited tax issues paper now only weeks away from release. Additionally, we will continue to see the ATO pursuing its strategy to reinvent itself as it embarks on an ambitious program of reform under the leadership of the Commissioner and his team. The "reinventing the ATO" project will no doubt have a wide-ranging impact on our profession and we will continue to monitor and actively participate in it to ensure that our members are well-informed and well-placed for the future.
As we wait patiently for the long-anticipated government tax white paper and the first formal step in that process (being the release of the issues paper), The Tax Institute is already hard at work delivering its structured education program, CPD events and conferences and, of course, its all-important policy and advocacy work.
Suffice to say that my first month as president has been a busy one, with several submissions having been made to government, including a submission to the Senate inquiry on corporate tax avoidance, a submission on the proposed changes to employee share schemes, and a submission regarding one of the many "un-enacted measures" now (finally) proceeding in relation to look-through income tax treatment for instalment warrants.
Time to celebrate
This month, the Institute celebrates the 30th anniversary of the National Convention. This is Australia's premier tax conference, where hundreds of tax professionals will converge on the sunny Gold Coast to be part of this terrific event.
The convention runs over three days, with 32 technical sessions and ample opportunity to network and connect (and re-connect) with your peers. We are privileged to have many of our nation's thought leaders in tax with us to share their vast experience, as well as a number of high-profile guests. This year's outstanding program includes keynote addresses from:
the Hon. Joe Hockey, MP, Federal Treasurer;
Chris Jordan, AO, CTA, Commissioner of Taxation;
Tony Slater, QC, CTA; and
Professor Henry Ergas.
Delegates will be able to learn from and mingle with leading tax experts in their field in the newly renovated surrounds of the RACV Royal Pines Resort, all the while earning 15 hours' CPD.
Significantly, the Institute will also be celebrating the second Annual Tax Adviser of the Year Awards at the convention gala dinner. These awards recognise and celebrate the profession's best and brightest in tax.
30 years is a wonderful achievement and I look forward to joining many of you at this year's National Convention to celebrate!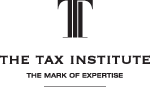 Stephen Healey CTA is President of the National Council at
The Tax Institute
.
The Tax Institute
is Australia's leading professional association in tax. Its 13,000 members include tax agents, accountants and lawyers as well as tax practitioners in corporations, government and academia.