This week in Canberra I had the opportunity to represent members' views with regards to proposed changes to the law covering employee share schemes. I attended a roundtable meeting with the Small Business Minister, The Hon Bruce Billson MP, where I spoke to the Tax Institute's recent submission to the Government on this matter.
As members have advised, we support the changes proposed to the taxation of employee share schemes. The proposed changes go a long way to reversing the unfavourable amendments made to these rules in 2009 that, in particular, hindered start-ups from providing shares or rights to employees in a cost-effective manner.
In particular, we strongly support the following proposals:
reversing some of the changes made in 2009 to the taxing point of rights;
extending the maximum tax deferral period from 7 years to 15 years;
changing the refund rules so they can apply to lapsed rights;
changing the option valuation tables; and
introducing employee share scheme concessions for start-ups.
However, there are a number of technical issues in the proposed changes that we suggest warrant further consideration.
The good news is that Treasury seem favourably disposed to addressing many of the issues we have raised. A detailed discussion of these issues may be found in our submission to Treasury. Thank you to members who contributed to this paper.
Treasury's new direction
The Department of the Treasury has a new Secretary, John Fraser, who has recently commenced in the role. Formerly the head of UBS Global Asset Management based in London, he is returning to Canberra and the Department that he last worked in in 1993 as a Deputy Secretary.
The Treasurer has asked him to conduct a thorough review of the Treasury's resources and capabilities. Already emerging from this, is the decision to establish a Treasury presence (by opening offices) in both Sydney and Melbourne. This is a positive step, as it can only serve to increase the engagement with business and other key stakeholders who invariably do not spend the majority of their time in Canberra.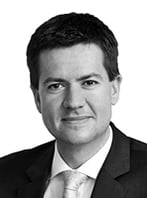 Robert Jeremenko CTA is Senior Tax Counsel of The Tax Institute.
The Tax Institute

is Australia's leading professional association in tax. Its 13,000 members include tax agents, accountants and lawyers as well as tax practitioners in corporations, government and academia.