As you may have seen, the Prime Minister reshuffled his Ministry prior to Christmas and this has resulted in the appointment of the Hon Josh Frydenberg MP as Assistant Treasurer.
This is good news for practitioners, because the post has effectively been without a permanent occupant since March 2014 when Senator Sinodinos stood aside.
So who is the new Assistant Treasurer? What will he bring to the role?
Apart from being a bit of a gun tennis player (he tried his hand at entering the pro tennis circuit in his younger days), the Minister represents the Victorian electorate of Kooyong, which was once held by Sir Robert Menzies (no pressure!). He studied law and economics at Monash University and worked in both law and banking before politics, where he advised Ministers including the Foreign Minister and Prime Minister. In 2010 he entered Parliament and from September 2013 had been the Parliamentary Secretary to the Prime Minister with responsibility for tackling red-tape across the economy.
As Assistant Treasurer Josh Frydenberg will no doubt bring his energetic, can-do approach to tackling the byzantine realm of taxation.
As someone who has always had an interest in taxation and its effect on the economy, tax professionals are keenly awaiting his leadership in the debate on tax reform particularly with the imminent start of the Tax White Paper process.
He will certainly be carefully listening to all stakeholders: individual taxpayers, businesses, community groups and tax professionals. These groups have an important role to play in arguing the case for tax reform, but Government plays a crucial role in building the 'why' case for reform from the perspective of the voting public.
The huge task of being across the detail of tax policy will be gifted by Joe Hockey to the Assistant Treasurer, who will have the tough job of selling the need for any tax reform.
We have already built on our existing strong relationship with the new Minister by briefing him early this year on the Tax Institute's key priorities and members concerns.
The Tax White Paper discussion paper is now expected to be released in the week commencing 2 February 2015. We will also see the Tax Expenditures Statement released next week by Treasury.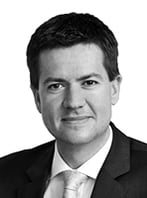 Robert Jeremenko CTA is Senior Tax Counsel of The Tax Institute.
The Tax Institute

is Australia's leading professional association in tax. Its 13,000 members include tax agents, accountants and lawyers as well as tax practitioners in corporations, government and academia.