At the event, which was streamed live to boardrooms around the country, Michael Flynn, CTA, President, The Tax Institute announced that: "With the impending changes in the landscape of the profession, we need to ensure that the tax professionals of today, and those of the future, are prepared and ready to meet these changes and be equipped to handle them and continue to succeed.
As noted by many, Australia's competitive and comparative advantage is based on our ability to teach thinking and applied skills and this advantage will only be secured with education programs that deliver on this promise where it matters — in the workplace.
The Institute's programs have been built on this philosophy, acquiring skills for tomorrow through explicit teaching which encourages higher order thinking today."
Professor Dale Pinto, CTA, Professor of Taxation Law, from Curtin Law School, said: "Today is a watershed moment in the proud history of the Institute and for me it has truly been a privilege to be involved in the development of this exciting initiative and to attend today's launch. I am of the firm belief that this course will provide candidates with the higher order analytical and practical skills needed to meet the challenges ahead. I very much look forward to being part of that journey."
Noel Rowland, Chief Executive of The Tax Institute, said: "Together, we are on a journey. And this is the next leg of our journey.
As your professional association, it is our responsibility to ensure that we adjust and evolve to equip the thousands of tax professionals with the education, training and resources they need to continue to succeed. We have an obligation to anticipate challenges and to open up opportunities both domestically and internationally for all members.
Our tagline, 'the mark of expertise', reinforces the principles and values of The Tax Institute — developing and encouraging the very highest standards on tax knowledge, information and education.
It is for this reason, among other initiatives, that we introduced the internationally recognised Chartered Tax Adviser designation to Australia in 2012 and now the Graduate Diploma.
These form part of our strategy to enhance the Institute's position but, most importantly, to enhance the expertise and skills of members and to give members more status and recognition as the leading tax advisers to business, individuals, students and government."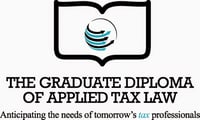 Enrolments for the Graduate Diploma of Applied Tax Law subjects for Study Period 1 in 2015 are now open.However, if you want to get started in 2014 the subjects CTA1 Foundations, and CTA2A Advanced are currently open for enrolments for Study Period 3 2014.

Find out more, and enrol, at taxinstitute.com.au/education.