This week The Tax Institute's new Tax Reform Committee held its inaugural meeting. The Committee is comprised of an impressive and diverse line up of members from various backgrounds in public practice, commerce, government and academia, and is chaired by our President Michael Flynn CTA.

The creation of the Committee this year formalises the importance of big picture thinking on tax reform as part of the Institute's policy and advocacy activities. The calibre of the volunteers on this Committee is an indication that there is a genuine interest within the Institute's membership in contributing to the overall design of the tax system.
There is no doubt the Institute's work on coal face issues is very important and has a significant and direct impact on members on a practical level. Having moved to the Institute at the beginning of this year from professional practice I am well aware that, as a tax practitioner, the concerns of specific clients, the vagaries of ATO guidance, the minutiae of the Tax Act and tax administration take up most of your day. Stepping back from these pressing daily issues and questioning how the tax system could be fairer, more efficient and simpler is no easy task. The Committee indicates that our members are up to the challenge.
Members do not need to be on the Committee to contribute to the Institute's conversation on tax reform. Please contact us at taxpolicy@taxinstitute.com.au with your ideas.

Also please join The Tax Institute on LinkedIn for news and updates and to discuss key issues in tax with other professionals.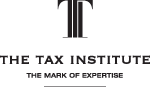 Thilini Wickramasuriya ATI is Tax Counsel at The Tax Institute.
The Tax Institute is Australia's leading professional association in tax. Its 15,000 members include tax agents, accountants and lawyers as well as tax practitioners in corporations, government and academia.