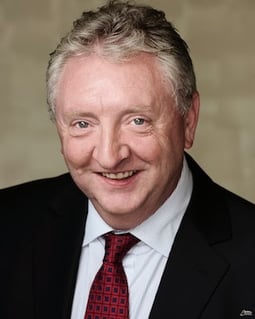 We sit down with Ultan McDonald from CBA to chat about the session he'll be co-presenting with Tony Frost, CTA, Greenwood & Freehills, at the upcoming Financial Services Taxation Conference in February 2014 on the Gold Coast.
Born in Ireland Ultan McDonald first arrived in Australia in 1985 and immediately joined the booming (and just deregulated) banking industry. He has spent most of his career in Markets with CBA and have been primarily based in Sydney with stints in Melbourne and London. He is married to Sally and has a daughter, Louisa.
How long have you been affiliated with The Tax Institute?
Peripheral affiliation only and only over the last 7 years.
What is the topic that you are presenting at the Financial Services Taxation Conference?
Offshore Banking Units.
What can attendees expect to learn from your session?
Hopefully they'll gain a practical insight in to matters OBU.
What new or hot topics will you cover?
Recently proposed and then deferred changes to OBU rules.
How will attending your session help delegates help their clients?
It should help attendees explain the "on/off" approach to OBU rules over the last 9 months.
Which other sessions at the conference are you most interested in attending?
FATCA.
What do you like to do when you're not knee-deep in tax?
I try to get knee deep in money (but am only ankle deep after 50 years!).
Ultan is presenting at the Financial Services Taxation Conference 19-21 February 2014 on the Gold Coast on Offshore Banking Units.
The session will cover issues like:
How are OBUs currently being used? Does OBU really stand for "only barely usable"?
Can we compete against Singapore and other financial centres?
What reforms would make OBUs more useful and competitive to both Australian and foreign-owned institutions?
What changes (good and bad) to the OBU rules are likely to emerge from the previous government's 2013-14 Budget announcements?

The 2014 Financial Services Taxation Conference is the flagship event in the financial services taxation calendar and attracts practitioners and in-house tax advisers from across Australia to discuss current issues within the financial services area.