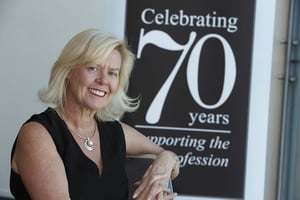 Sharyn Long, CTA, Managing Partner, Sharyn Long Chartered Accountants
Sharyn Long is a Chartered Tax Adviser, and has been a member of the Institute for 27 years. A long-time presenter and volunteer at Tax Institute events, we sat down with Sharyn at the Perth national convention to talk about her memories of The Tax Institute.
What have some of the highlights of your time as a member been?
The first time I presented at the national convention in Melbourne years ago, it was the most people I had ever spoken to.
The launch of the education program that allows candidates to achieve their qualifications in tax — this was a great initiative and we have put a number of our staff through the program, with great results.
I've gained a number of long-standing loyal clients from my involvement with the Institute.
How has the Institute helped shaped the profession over the years?
I specialise in superannuation and, while this is now a mainstream area for many accounting firms, that hasn't always been the case.
I've also given many presentations for The Tax Institute, including at several national conventions, over the years — these forums have helped me to develop my technical knowledge, as well as my presentation skills.
Do you have a message for the Institute and its members on the 70th anniversary?
Without a doubt, the Institute has played a critical role in the development of tax professionals in Australia — congratulations on reaching 70.

In 2013, The Tax Institute is celebrating 70 years of supporting the tax profession.


The Tax Institute is Australia's leading professional association in tax. Its 13,000 members include tax agents, accountants and lawyers as well as tax practitioners in corporations, government and academia.