In a special tribute to the late Justice Graham Hill, Australian Tax Forum brings together many of the country's most respected tax writers and academics to offer their thoughts on Justice Hill's contribution to our tax system.
Taken from this issue, is Richard Giannone's Gedenksschrift for Graham Hill, an abstract of which is below. You can download and read the full article for free.
Abstract
Donald Graham Hill was a gifted tax practitioner, an eminent judge and an outstanding teacher. His death in 2005 saddened all who knew him, including the many students whom he had taught over 38 years as a lecturer at the University of Sydney in the Master of Laws Course in State Taxes and Commonwealth Sales Tax. This article records the reflections of one of those students, who has practised for 25 years in the specialist area of stamp duty law in which Graham was renowned as the leading expert. Graham's talent for teaching is acknowledged as the foundation for the professional expertise which the writer has developed.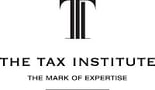 The Tax Institute is Australia's leading professional association in tax. Its 13,000 members include tax agents, accountants and lawyers as well as tax practitioners in corporations, government and academia.