Last month, on 19 March 2013, Chartered Tax Advisers from The Tax Institute's sister bodies in the UK and Ireland joined some of our own CTAs in Sydney for an exclusive networking event.
The event was hosted by KPMG and provided CTAs with the opportunity to hear from leading tax experts on the latest hot tax topics in Australian direct and corporate tax.
A great night!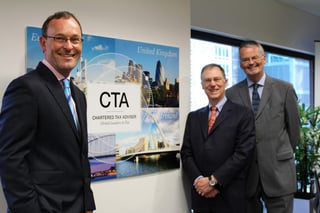 CEO of The Tax Institute Noel Rowland with CEO
of the Chartered Institute of Taxation (UK) Peter Fanning
and CEO of the Irish Tax Institute Mark Redmond [L-R].
Do you want to receive specialist recognition for your skills and attract new clients? Join The Tax Institute and become a Chartered Tax Adviser (CTA) to gain recognition in your field in Australia and overseas.