International tax designation exclusive to The Tax Institute
Australian tax professionals have received a major boost to recognition on the global stage thanks to a unique internationally recognised designation secured by The Tax Institute.
In an Australian-first development, members of The Tax Institute have the opportunity to apply for Chartered Tax Adviser (CTA) status, allowing their credentials to be recognised in a number of international jurisdictions including the UK, Europe and Ireland.
According to Ken Schurgott, President of The Tax Institute, the Chartered Tax Adviser designation gives the Institute's 13,000 members the opportunity to join a growing international network of Chartered Tax Advisers, providing international opportunities previously unattainable for Australian tax professionals.
Despite boasting some of the finest professional standards for tax professionals in the world, Australian practitioners have long been held back by the lack of an international designation. "Now this hurdle has been removed and we're thrilled to offer this unique opportunity to our members," he said.
Until this year the Chartered Tax Adviser designation was held only by members of the UK's prestigious Chartered Institute of Taxation, but it has been extended in a bid to recognise and promote the highest standards of tax advice internationally. The Tax Institute is only the third tax body to be granted the ability to designate its members as Chartered Tax Advisers.
Mr Schurgott said this new designation illustrates the esteem in which The Tax Institute's programs and the reputation of its members is held internationally.
"This is a crucial development for Australian tax professionals as the Chartered Tax Adviser designation is considered a trusted sign for employers and taxpayers seeking expert tax advice."
"Our members will be set apart from their contemporaries as the pre-eminent tax experts in Australia and the world," said Mr Schurgott.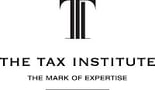 The Tax Institute is Australia's leading professional association in tax. Its 13,000 members include tax agents, accountants and lawyers as well as tax practitioners in corporations, government and academia.
Please visit our website for media enquiries.