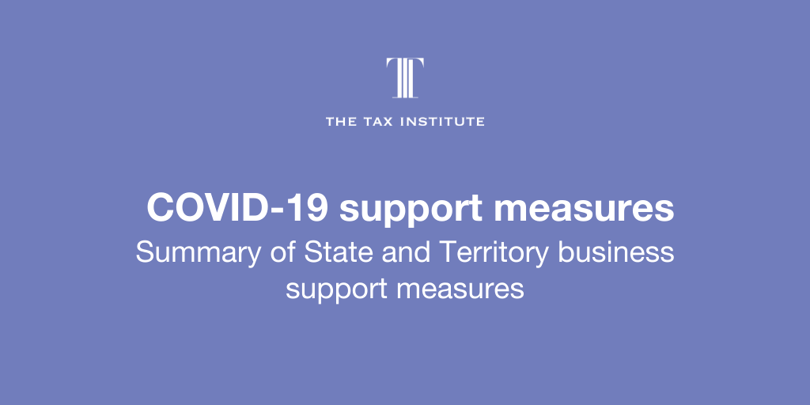 States and Territories around Australia have put in place measures to assist businesses to continue amid the economic impact of COVID-19 lockdowns and restrictions. As many States and Territories deal with lengthy periods of reduced business activity, tax professionals and accountants are being called on to assist their clients in understanding their eligibility for various support measures, navigating the application process and in understanding how the offered assistance will practically impact their business and employees.
For many, this has been frustrating due to changing guidance. We are working closely with some State governments and monitoring the information provided by others in order to keep our members updated with the latest on these vital measures.
We'll be updating the below summary document each week as new information arises. This summary includes a breakdown of key information like payment amount, open dates, required aggregated turnover and decline in turnover and other key conditions for various measures, including:
NSW COVID-19 Business Grant
NSW JobSaver Program
NSW Micro-business Grant
NSW Small business fees and charges rebate
Victorian Small Business COVID Hardship Fund
Queensland 2021 COVID-19 Business Support Grant
ACT COVID-19 Business Support Grant
ACT COVID-19 Small Business Hardship Scheme
SA COVID-19 Business Support Grant - July 2021
SA COVID-19 Additional Business Support Grant
Tasmanian Business Hardship - Border Closure Critical Support Grant
WA Small Business Lockdown Assistance Grant: Round Two June 2021
NT Territory Business Lockdown Payment Program - Lockdown (round 2) payment
It also includes some key common exclusions and outlines the use of business grant funds.
We hope this summary helps resolve some of your client questions. To discuss COVID-19 support measures or the challenges you're acing at the moment with fellow members of The Tax Institute, head over to our Community platform.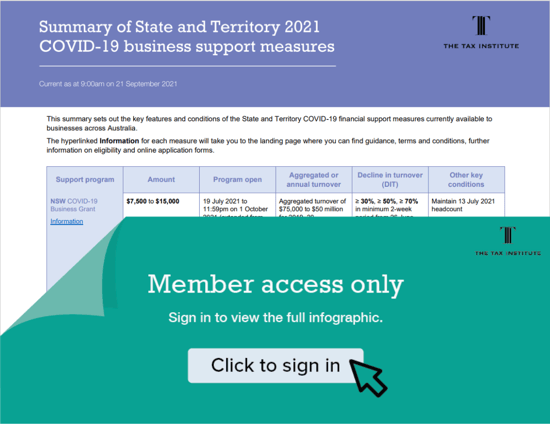 This comprehensive breakdown of current COVID-19 support measures is a resource for The Tax Institute's members. If you'd like to become a member, to access this and leading resources like it, explore membership options today.
Past summaries
We update this summary regularly in order to bring you the latest information. Past versions are still available below.
Related insights