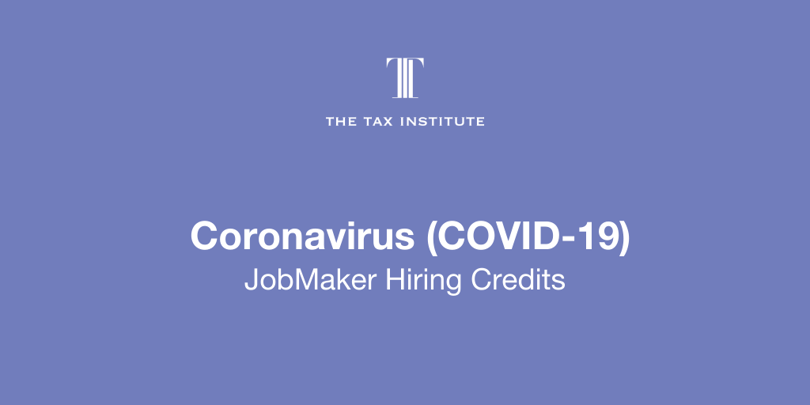 Registrations are now open for the Federal Government's JobMaker Hiring Credit scheme (JobMaker), an incentive for Australian businesses to employ job seekers aged between 16–35 years. Eligible employers can access JobMaker for each eligible additional employee they hire between 7 October 2020 and 6 October 2021.
The JobMaker Hiring Credit legislative framework is contained in:
It's crucial that tax practitioners understand the requirements of applying for JobMaker and the benefits their clients may be entitled to under the scheme.
To assist The Tax Institute's members in quickly and correctly understanding JobMaker, I have developed the below article in cooperation with the ATO. It breaks down the need-to-know facts of JobMaker, and provides a useful example so you can see at a glance how the scheme applies in practice.
The article sets out:
the key points of the new JobMaker Hiring Credit payment program;
JobMaker payment rates;
a schedule of JobMaker periods, and registration and claim deadlines;
the eligibility conditions for qualifying entities and eligible additional employees;
how to calculate the JobMaker Hiring Credit entitlement;
a worked example; and
links to technical references and further information.
Download the guide: JobMaker Hiring Credit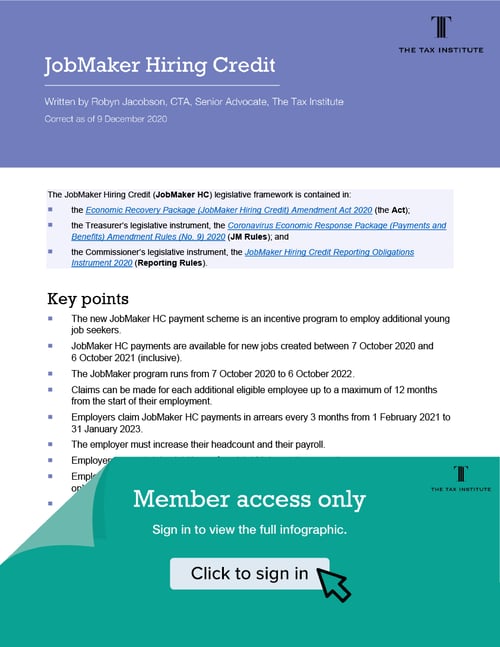 Not a member yet?
You can access this essential guide – and plenty more – by signing up for a free 2 month trial membership. Trial membership gives you access to:
2 months free membership – worth over $115
Professional development opportunities and up to 20 hours of complimentary CPD per annum – saving $1,600
Monthly technical papers that cover recent tax developments, tax cases, new legislation and ATO rulings – saving $750
Member only pricing to all the tax profession events, resources and videos you could possibly want