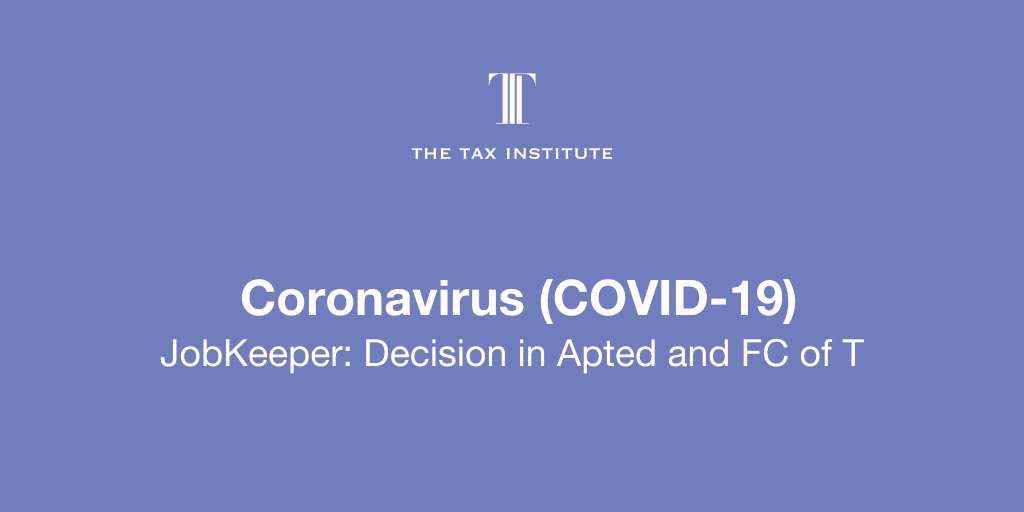 A number of taxpayers will be interested in the outcome of the appeal to the Full Federal Court of the AAT's decision in Apted and Federal Commissioner of Taxation [2020] AATA 5139.
The ATO confirmed on 18 January 2021 in an interim Decision Impact Statement that, while the appeal outcome is pending, the ATO will manage cases affected by the AAT's decision (including those for which an objection against an adverse decision to deny JobKeeper or the cash flow boost has been lodged with the ATO) as follows:
where an entity's eligibility can be resolved in a manner favourable to them — for example, where an entity did not have an ABN on 12 March 2020 but the Commissioner determines that the entity's circumstances fall within the approach contemplated in PS LA 2020/1 — the ATO will continue to resolve these matters and progress as normal to finality;

where an entity is ineligible for other reasons unaffected by the Apted decision — for example, the entity does not meet one or more of the other eligibility criteria — the ATO will determine ineligibility based on those other reasons;

with the client's agreement, postpone finalising decisions regarding eligibility for JobKeeper payments in circumstances where the ATO determines the entity does not satisfy the eligibility criteria but considers they might become eligible depending on the views of the Full Federal Court on the issues in this case; and

if an entity would like the ATO to make a decision while the appeal is pending, the ATO will do so in line with the current ATO view set out in PS LA 2020/1.
The ATO is taking a similar position in regard to eligibility for the cash flow boost given the same '12 March 2020 ABN requirement' exists for eligibility for the cash flow boost. The AAT's decision has not changed the need to satisfy all other eligibility conditions.
In this report, I have outlined the next steps taxpayers should be thinking about and various time limits for lodging objections and seeking reviews or appeals of decisions on objection of which tax practitioners should be aware while the appeal outcome in Apted is pending.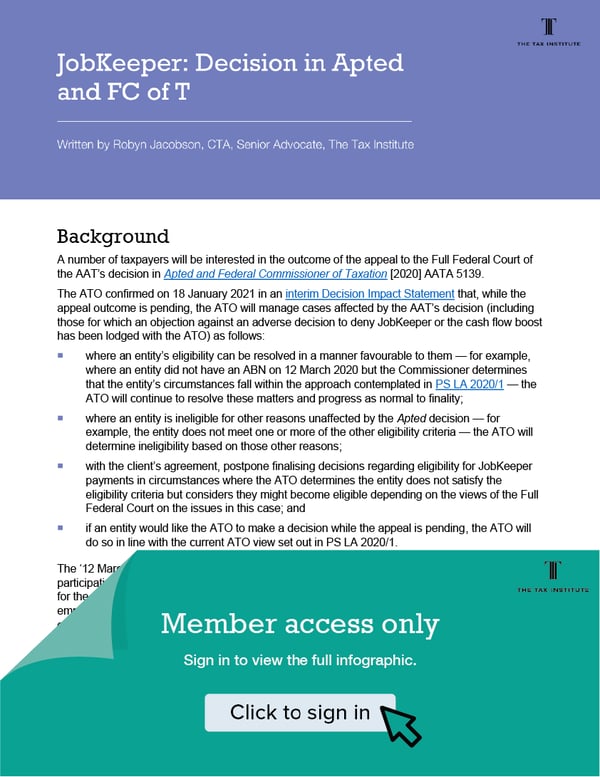 Not a member yet?
This commentary is part of our member advocacy work, available to members of The Tax Institute. Not a member yet? No problem! You can sign up for a free 2-month trial membership, which will allow you to download Robyn's report and access all the other benefits of membership for a full 2 months. That includes:
2 months free membership – worth over $115
Professional development opportunities and up to 20 hours of complimentary CPD per annum – save $1,600
Monthly technical papers that cover recent tax developments, tax cases, new legislation and ATO rulings – save $750
Recent member-only resources, including our comprehensive and highly valuable State of Tax Policy Report December 2020