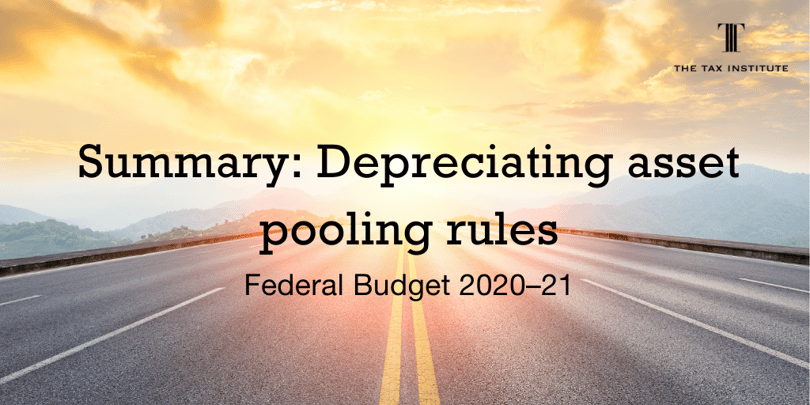 Some of the tax measures announced in the Federal Budget 2020—21 have proven to be complex and challenging for busy practitioners. Given that the Treasury Laws Amendment (A Tax Plan for the COVID-19 Economic Recovery) Act 2020 has been enacted (on 14 October 2020 as Act No. 92 of 2020) it's important for tax practitioners to understand the new measures affecting depreciating assets and their practical application.
To assist our members, I have analysed the recent legislative amendments and collated the most important information into a series of member-exclusive practical summaries and infographics.
Our previous infographic setting out the interaction of the instant asset write-off and the new full expensing of depreciating assets (FEDA) measure is available at the link below.
Designed to complement the existing infographic, the summary below is a concise, practical breakdown of the pooling rules for depreciating assets for small business entities (SBEs) and low-value pools for non-SBEs (aggregated turnover of $10 million or more).
This quick and easy reference summary, containing legislative references, includes key information such as:
the rules around applicable depreciation rates, mandatory depreciating asset pooling, impact of the car limit and

The meaning of low-cost asset and low-value asset

A list of the assets which are excluded from the pooling rules with explanations

How to calculate the closing balance and the low pool value of a general small business pool

The effect of balancing adjustment events

Interaction of the low-value pooling rules with the new FEDA measure.
This handy guide is designed to save you time when applying these rules to your clients. For an overview of all the tax measures announced in the Federal Budget 2020—21, you can also download the Federal Budget 2020–21: practical insights summary.
Download the Summary: Depreciating asset pooling rules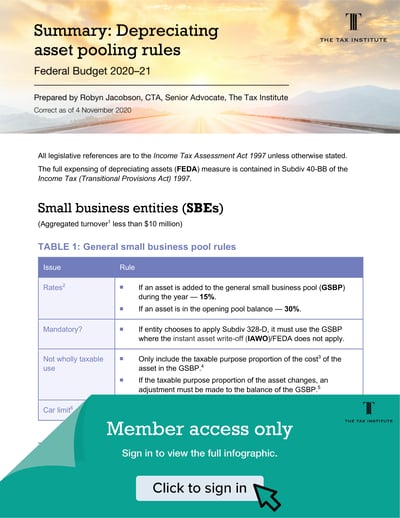 Other handy Federal Budget resources for Tax Institute members:
Not a member yet?
Sign up for a 2 month free trial and you'll not only get access to the Federal Budget 2020–21: practical insights summary, but also to a host of other member benefits, including:
Weekly updates on issues, case law and tax news in our indispensable TaxVine Newsletter.
The best in tax technical analysis and thought leadership through our monthly Taxation in Australia
Frequent updates from our tax experts, untangling new legislation and personally answering your tax technical questions.

Member prices

on our range of leading webinar series, online conferences and virtual events.

Insights and valuable CPD hours with a Tax Update Presentation and Special Topic Paper from a leading expert each month.
A network

of like-minded, generous tax practitioners

who can help you grow and build a career you are proud of on our Community forum.
Sign up for your two month free trial now.