Eddy Moussa, CTA, on which skills are key for success and how membership has impacted on his career.
We caught up with Eddy at the 34th National Convention in Hobart. He is a Partner at PwC and is currently a member of our National Council.
"What I really like about tax and being a tax adviser is it involves problem solving, and it's a way of problem solving which is applying the law to business transactions," he says.
"And in the place that I work, you need to do that in a team environment.
"So I get to work with great people solving interesting problems for clients."
Tax as a body of law is massive
Eddy says that building
technical knowledge
and
structured education
is imperative for new practitioners.
"Ultimately, we're assisting clients manage their tax affairs and ensuring they're complying with the rules.
"And it's very hard to do that if you don't understand the rules yourself.
"Tax as a body of law is massive. Then, you can overlay ATO guidelines, treaties, and all the other relevant material that is there.
"There's actually a lot to get across. It's almost insurmountable in many ways, but it's important to keep chipping away, building technical knowledge, so you can build confidence to advise clients, or at least know where to look when an issue is presented to you," he explains.
Develop your professional adviser skills
Eddy says there are also a number of skills over and above technical skills that are important to be a fantastic tax professional.
"People might label them soft skills. To me, they're
professional advisor skills
," he points out.
"Can you communicate complex things in a way that people can understand who might not be tax-centric or tax-savvy?"
Eddy explains that this communication isn't limited to verbal communication but also written advice.
"Can you work in a team? More and more, solving problems or helping clients is about working in teams to get to an outcome," Eddy continues.
"Can you manage multiple things at the same time? If you're working in a firm, no one ever has one client.
"The vast majority of times, people are managing multiple deadlines with multiple clients at the same time.
"Time management, project management, assignment management. All of these things are critical to be successful, and they're all over and above knowing the law."
Why membership has been "rewarding"
We asked Eddy how his
membership
with The Tax Institute has been beneficial for his career.
"I've been involved with The Tax Institute now for probably six or seven years, starting with the professional development committee, State Council, and now National Council," he says.
"It's given me a great way to meet other tax professionals outside my workplace.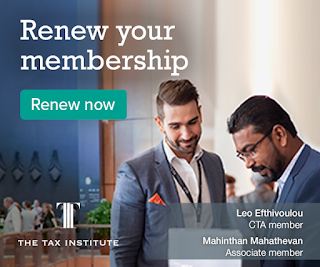 "And I've kind of been exposed to the big wide world of tax, which is a lot broader than what it is within my firm. So that's been fantastic meeting like-minded professionals."
He also cites the Institute's CPD events as a great way giving members and non-members the opportunity to learn, grow, and develop with like-minded professionals.
"It's been really rewarding for me," says Eddy.
"On a personal level, membership has given me the opportunity to meet a bunch of people that in my day job, so to speak, I wouldn't have otherwise met.
"Ranging from university professors, retired judges, barristers, other people from the ATO, all with a collective vision to make the system better."
Eddy says getting involved in CPD events have also been beneficial.
"I've either given papers or chaired events or attended throughout my involvement with the Institute," he says.
"I've certainly got a great deal out of them in a number of ways.
"Firstly, it's always nice to see professionals that would be regular attendees at certain events.
"It's also beneficial because you might have your own view about how particular sets of law works, but it's always helpful to understand the ATO thinking on an issue, or what do other firms or other advisors or other practitioners think?"
The Tax Summit brings together two of our most popular events: the National Convention, and NSW Tax Forum.
By combining these two great events, we've created the must-attend tax event of the year. With time and space to explore the topics that really matter: across accounting, tax, law, business and leadership.
Join 100s of your peers for three days of the best the profession has to offer at the industry-shaping Tax Summit.