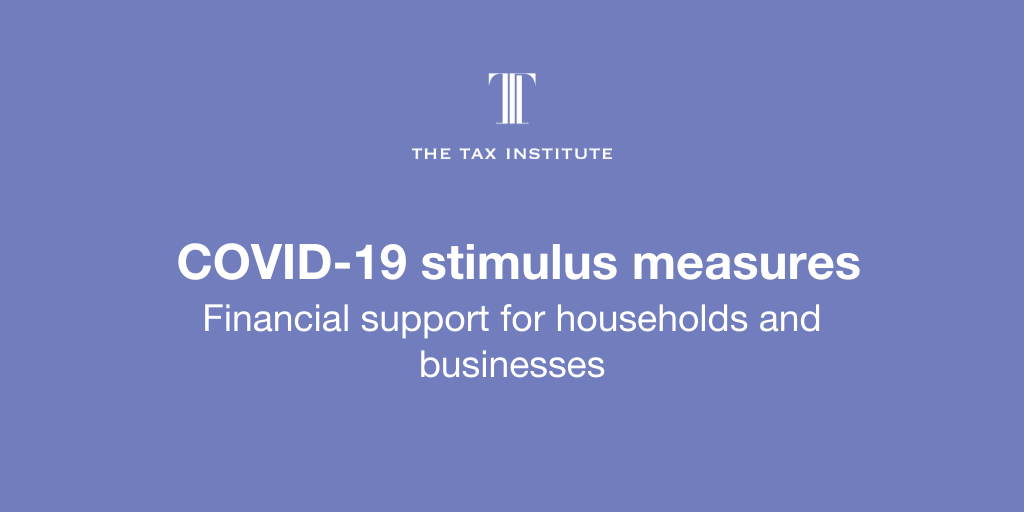 This content is an update from the article (both PDF and on this page) published in TaxVine on Friday 6 August 2021, dated 5 August 2021.
A significant COVID-19 support package for households and businesses valued at $5.1 billion was jointly announced by the Prime Minister, Scott Morrison, the NSW Premier, Gladys Berejiklian and the NSW Treasurer, Dominic Perrottet, on 13 July 2021.
Following on from our blog article released on 19 July 2021, the Federal and State governments of NSW, Victoria, South Australia and Queensland have made various announcements (see Appendix B of this article) to provide further details about the raft of financial support measures available to households and businesses affected by the ongoing lockdowns.
The continuing outbreak in NSW that has led to lockdowns in Greater Sydney and surrounds (Central Coast, Blue Mountains, Wollongong and Shellharbour) extended into Victoria and South Australia, leading to swift lockdowns in those states which have since been eased. Meanwhile, due to the escalating situation in Queensland, a lockdown has been imposed in 11 Local Government Areas (LGAs) in South East Queensland until Sunday 8 August 2021.
Given the fast-moving nature of the announcements, we have split the below member-exclusive article into:
Commonwealth support measures;

State support measures;

Common observations and matters; and

Appendices setting out further information.
This article is designed to be a one-stop shop, containing extensive summaries, tables, hyperlinks and analysis on the 2021 COVID-19 support measures.
We will provide further guidance and information as it becomes available.
Snapshot
This quick snapshot lays out the key dates, figures and information that you need to know. This is a useful summary to have on hand and for further detail on the measures outlined, you can take a look at the full article.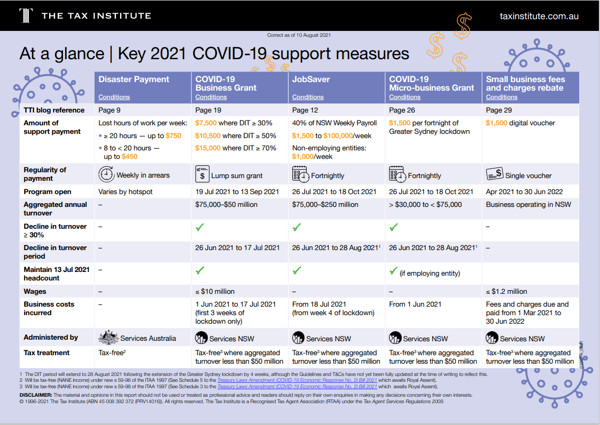 The extensive support package takes the form of:
Commonwealth support measures
COVID-19 Disaster Payment (Disaster Payment)

JobSaver payment (JobSaver)

Commonwealth business tax relief

Childcare gap-fee waiver

Mental health support.
NSW support measures
2021 COVID-19 Business Grant (CB Grant)

2021 Micro-business Grant (MB Grant)

Small business fees and charges rebate (Rebate)

Hospitality and Tourism COVID-19 Support Grant

payroll tax relief

land tax relief

an eviction moratorium for residential tenants

changed rules for commercial and retail tenants

Gaming tax assessments.
QLD support measures
2021 COVID-19 Business Support Grant.
SA support measures
COVID-19 Business Support Grant — July 2021

COVID-19 Disaster Support Payments (for regional South Australia).
VIC support measures
21 July 2021 Top-Up Payment

$450 Test Isolation Payment

$1,500 Pandemic Leave Disaster Payment.
Commonwealth co-funded measures and declared hotspots
Two measures — COVID-19 Disaster Payments and JobSaver payments — will be:
funded under a 50/50 cost sharing arrangement between the Commonwealth and the state or territory government; and

available nationally to any state or territory in areas that are subject to a declaration of a Commonwealth hotspot and to state or territory lockdown restrictions.
Disaster Payments will be available even where a lockdown is less than seven days. JobSaver payments will be available nationally to any state or territory that experiences an extended lockdown beyond week three following the declaration of a Commonwealth hotspot.
A complete list of current Commonwealth-declared hotspots is set out at Appendix A of this article.
This comprehensive breakdown of current COVID-19 support measures is a resource for The Tax Institute's members. If you'd like to become a member, to access this and leading resources like it, explore membership options today.