2014 Emerging Tax Star Matthew Andruchowycz, CTA, reflects on winning the award and shares his advice for next year's contenders.
Matthew is a Tax Lawyer at Kovich & Co, who specialises in superannuation and tax law.
He was named Emerging Tax Star in 2014.
"I think it has been the single most beneficial event of my career, outside getting lucky with my first tax mentor and team and being busy with good work for those first five or so years," he admits.
"The award helped me distinguish myself right at the time when I was starting to have more one on one interactions with clients and referrers and trying to build my own brand.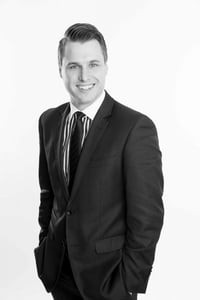 "My main focus is SME so it's all word of mouth and the award seemed to have the effect of justifying and reinforcing people's belief in me."
Matt says the entire process of entering the awards was 100% worth it.
"Preparing the application forces you to reflect," he says.
"The applications are also confidential.
"If you're not nominated no one knows (and you can improve your application for next time) and if you are nominated then you're going to feel pretty bloody good about it."
On the day of the awards at the Gala Dinner, Matt remembers feeling proud to be nominated and anxious about not
knowing the outcome.
"I have since helped to organise the event, judged the awards, chaired sessions and presented - but
nothing has come close to making me feel like the centre of attention like being a nominee did," he says.
"I convinced myself I wouldn't win but had a speech ready in case.
"There was an initial surge of relief and happiness – then the adrenalin of addressing a room of people I look
up to and want to impress – and then back to the happiness!"
Winning: a moment "hard to beat in my career"
Matt says winning was a great feeling for him and his team.
"My team was stoked!" he says.
"Within minutes they had texted the firm, friends, referrers, clients etc.
"It was a late night with a few extra drinks and will be hard to beat in my career."
Advice: "make it easy for the judges"
Matt says the Awards program is competitive and candidates need to prepare properly and time it right.

"The cut off for Emerging Tax Star is 5 years of experience," he points out.
"Make sure in your 4th or 5th year you have ticked all the boxes such as Institute involvement, independent work, business development initiatives etc.
"Keep track of those activities so you can include details and evidence in the application, and build your application from the ground up for the judges."
Matt says he has judged the awards and it's not easy.
"There are specific categories and criteria that need to be addressed," he explains.
"Make it easy for the judges to give you a high mark in each category.
"If you are in doubt on something, I'd be very happy to try to help and make suggestions - my details
are on Google!"
Applications for the 2020 Tax Adviser of the Year Awards close 20 October 2019.
Be recognised by your peers in Australia's most prestigious awards program for tax professionals.
Apply now, or nominate a colleague, for the chance to be honoured amongst the best and brightest in the
Australian tax profession.