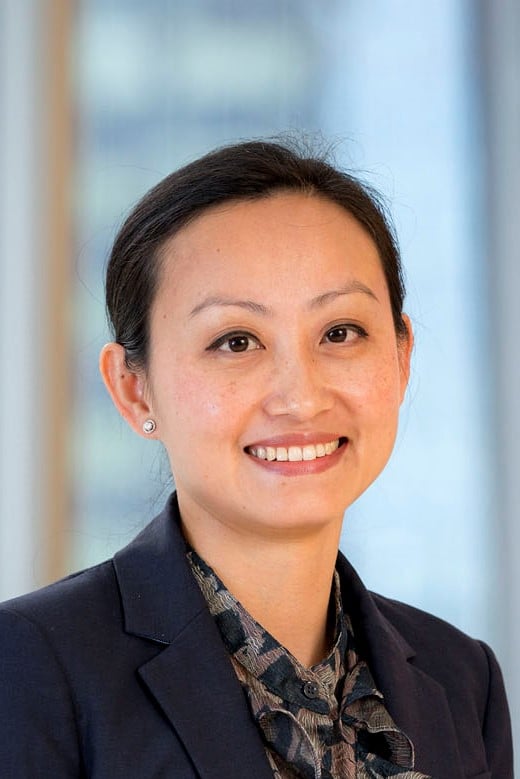 Minh Dao, CTA was crowned Corporate Tax Adviser of the Year in 2015. She shares her experience and advice for next year's applicants.
A leader in tax, Minh is Partner, Deal Advisory Tax, at KPMG. In 2015 she was named Corporate Tax Adviser of the Year.
"At the time, I'd just made partner at KPMG, and so exposure to the market was very important for me," she says.
"To be recognised by the Institute has not only benefited me, but has also benefited my firm, KPMG."
Oscars of the tax profession
"There were very prominent people within our industry that had been nominated that year," Minh reminisces.
"Andrew Mills was one of the nominees for the Chartered Tax Adviser category and he did win that that year!
"To be acknowledged in that manner was humbling, but also overwhelming because it's a big night.
"It's the equivalent of our Oscar night for the tax profession."
She admits she was very nervous on the night and winning was a huge surprise.
"To be recognised in that way was very special. I was very nervous about making an acceptance speech, which is not something we do in our profession often, and making sure that I said all the right things and thanked all the right people, as well."
Minh says it was also a great year for female representation in the finalist list.
"From memory, there was a female in every category, and that's something I also took away from that award, was to champion more female participation in the awards process," she says.
"I think women tend to not put themselves forward."
Reflecting on the awards process
We asked Minh if the awards process was a worthwhile experience.
"Absolutely worthwhile, and I encourage people to do it," she says.
"Whether or not you win at the end of the night you win as a participant in the process.
"The reason why I say this is because you end up reflecting on your own career and the contributions you've made, not only to the profession, but to the people you have worked with and the clients you have acted for."
She explains that it is a process whereby candidates need to think about their own contribution. She feels it's only through these awards that candidates can sit down and document everything they have done in their career, and really feel a sense of just pride looking back on their achievements.
Minh also adds that from a personal growth perspective, the awards allow for candidates to seek and receive feedback from stakeholders and clients.
"As it's an award context, clients are more willing to put in writing their support for you," she says.
"For me, it was really humbling reading what people had to say about me, particularly reading my staff's support for me.
"It goes to the process itself - you have to take it seriously, and if you do take it seriously, you win, regardless of whether or not your name is announced as the winner on the night."
A "talking point" for international clients
Whilst her firm was very supportive of her win, Minh says it was also beneficial for her international clients.
"The Institute is well-known within Australia and is the only body in the country that runs these tax awards," she says.
"Non-residents don't know a lot about the Institute, so winning the award has certainly been a talking point for some of our non-resident investors.
"It gives them comfort that they're dealing with someone who has been recognized by the profession."
Advice for 2020 applicants
Minh's advice for applicants is to allow plenty of time to complete the nomination form.
"It is not something that you can complete within half an hour on a Thursday night before it's due on a Friday," she says.
"No matter how well-known you think you are in the industry, responding with limited answers to the question is not going to help your application.
"I know that particularly senior professionals are very busy, and often don't allow themselves the appropriate lead time to complete the forms or obtain the supporting documents and references.
"Responding with, "Don't you know who I am?" is not going to win you the award."
With that said, Minh says emerging practitioners shouldn't downplay their contribution or be concerned about whether they are well known in the profession.
"The awards are a great way to catapult you profile if you are an emerging star," she says.
"There are a lot of young, aspiring tax professionals at KPMG who we see potential in, and they do amazing things at that level.
"Again, I would encourage everyone, particularly females to apply; I'd love for more female representation at these awards."
Minh says she encourages her team to apply for the awards where appropriate.
"At KPMG, we endeavour to support at least two candidates for each of the categories.
"We also support suitable candidates through the application process by paying their membership fee if they are not already a member, so that we can nominate our best and brightest to give them every chance to win the award."
Applications are now open for the 2020 Tax Adviser of the Year Awards
Be recognised by your peers in Australia's most prestigious awards program for tax professionals.
Apply now, or nominate a colleague, for the chance to be honoured amongst the best and brightest in the Australian tax profession.