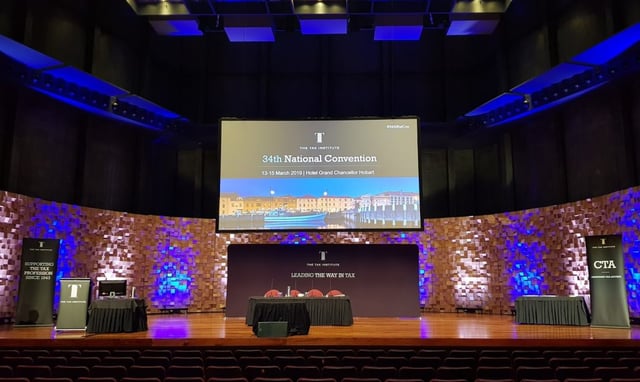 President Tim Neilson, CTA, reflects on the 34th
National Convention.
March is apparently often the best time of year in Hobart,
and the weather was certainly kind to us.
But, as usual at the Institute's National Convention, there
was so much going on indoors that only those lucky enough to have tacked some
extra days on to their trip (or to live there year-round) would have got the
full benefit of the sun and the ambient temperature.
It's invidious to select any specific speakers as having
been outstanding, especially since I couldn't be at three places at once during
the breakout sessions (much as I would have liked to), and so didn't see a
number of sessions that I'm aware were excellent.
So I'd certainly like to thank all our speakers, panelists,
session chairs, and of course unsung heroes who do a lot of the research and
writing behind the scenes to make the presentations special.
But I want to note our special thanks to a few people.
Commissioner of Taxation Chris Jordan, CTA always makes time
on his busy calendar to engage with us at the National Convention and always
holds the audience inimitably. We're grateful to Chris, and to all the ATO
presenters, for helping us make the National Convention the premier annual
event for the tax community.
Mitch McPherson of the suicide prevention charity "SPEAK UP!
Stay ChatTY" was also riveting as he reminded us that there are issues more
important than tax. (Yes, really.)
The Assistant Treasurer Stuart Robert was also generous with
his time and his advice, especially his response to an enquiry about a
long-delayed "announced but unenacted" tightening up of the tax laws, that
"sometimes it's better not to ask".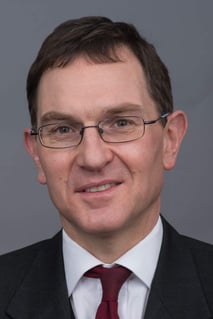 Tim Neilson, CTA
And it was great to close the Convention with recently
retired Inspector General of Taxation Ali Noroozi displaying his trademark
candour, insight and humour.
Another highlight was of course getting to meet all the
finalists in the Tax Adviser of the Year awards and to be part of the
presentation of certificates to all of them and the trophies to the winners.
The finalists epitomised a number of qualities which the Institute strives to
promote within the tax community, in particular diversity, excellence and
collegiality.
One of the Institute's great strengths is bringing together
tax people of widely diverse backgrounds, experiences, roles in tax and points
of view, and our finalists certainly showcased that aspect of what the
Institute is about.
I'm sure everyone who was there would appreciate, even from
the very brief CV's that were presented for each finalist, the excellence that
each of them has achieved in their careers, and also the great contribution to
the tax system that they make.
One thing that struck me when each of our finalists spoke,
and again when the winners accepted their trophies, was how much emphasis they
all placed on the benefits they got from colleagues and other mentors and how
much benefit they got from getting involved and contributing to
the tax
community.
We were recognising them for their achievements and
contributions, but they all clearly focussed not on their own accomplishments
but on others who had helped them.
I'm sure that that resonated with all Institute members who
were present. It's one of the things that makes tax such a rewarding career.
And the National Convention was a great place to remind
ourselves of that.
Tim Neilson is a
Special Counsel of Greenwoods & Freehills Pty Limited in Melbourne. He is a
legal practitioner who practices primarily in the area of income tax and
capital gains tax, generally for "large business and international"
type clients, mainly in financing, major projects and M&A. Tim is the 2019
President of The Tax Institute, and is a former State Chairman and current
National Councillor. He has published frequently in professional journals and
spoken at professional organisation conferences and seminars and guest lectures
in the University of Melbourne's Masters of Laws program.