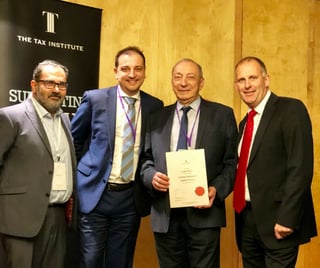 Doctors, lawyers, teachers and other professionals never stop learning
new techniques and strategies to hone their craft and remain on the cutting
edge in their field – and so, too, do tax practitioners. Joseph Malouf, The Tax
Institute's most mature graduate, is proof that you are never too old to learn.


Joseph became the oldest graduate on 24 May 2018 at age 83 when he was awarded the Graduate Diploma of Applied Tax Law through The
Tax Institute.
"I'm very excited and proud to have completed the Graduate Diploma,"
Joseph said. " I've had a
very successful career in the accounting profession over many years, spanning
many disciplines. All required the sound knowledge of taxation principle
foundations."
Joseph adds,
"Certainly, having the qualifications and designation will support my practising
career, in addition to the confidence built on the skills and knowledge I
happily acquired in my studies with The Tax Institute."
Keeping up
with Australia's evolving tax system
Joseph's
eagerness to
deepen his knowledge in the disciplines he is practising and hunger for
acquiring new skills was the reason he started the

Graduate

Diploma. He was also
encouraged by the Tax Practitioners Board to undertake refresher courses
in commercial and taxation laws.
"My younger
son, who is now a CPA, witnessed the hard work I was carrying out through the
process of arming myself with adequate up-to-date knowledge. I found all course
topics extremely valuable and felt fully satisfied in starting and completing
the courses, notwithstanding the hardship I encountered in the balancing acts
of combining the demands of work, study and family life."
Professor Bob Deutsch, Senior Tax Counsel and Head of Education at The Tax Institute, said he
is a "tremendous inspiration to those who aspire to pursue lifelong learning."
Bob adds, "His dedication and hard work is truly remarkable. It
reminds us that it's never too late to expand our minds and challenge ourselves
to achieve something worthwhile. "
Secrets
to study success
When asked
to share his advice to others considering study, Joseph's first tip was to view
study as a happy celebration, rather than as a heavy load. "Think of the study
environment as a worthwhile place of enjoyment surpassing any other places," he
said.
Joseph adds,
"Set a target of well-balanced priorities and adhere to workable study plans
with a high degree of discipline. Read and re-read the study materials to familiarise
yourself with each topic under review. Finally, aim to achieve excellence by
practising problem-solving, and not rely on open-book exams for help."
In addition
to carrying out his clients' work with a high degree of integrity, Joseph is continuing
study with The Tax Institute and complete the
CTA3 Advisory
subject – the final step before
achieving the prestigious, internationally recognised
Chartered Tax Adviser (CTA)
designation.
"I will continue
arming myself with essential knowledge by keeping abreast of new developments
in taxation, commercial and other law matters and attend professional
development conferences as needed."