Senior Australian Taxation Office representatives Andrew Mills, CTA (Life) and Kristen Fish, CTA, were invited to communicate directly with tax professionals in a discussion-based format at The Tax Institute's 2016 National Convention, held in Melbourne in March.
A series of questions and answers covering an array of current technical issues of importance to tax professionals were asked of Andrew and Kristen, with Gordon Cooper, AM, CTA (Life) of Cooper & Co. and Cameron Rider, FTI of PwC joining the round table.
The video recording of this one hour session is available to view free by clicking the image below.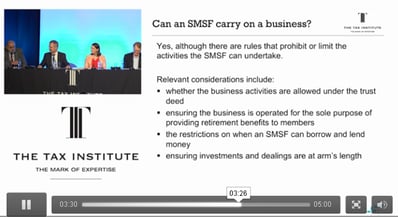 This video is one of nine in our 2016 National Convention Video Package. This specially priced bundle also features:
SMSF Real Property Investments - Presented by Speaker: Stuart Forsyth, CTA, McPherson Super Consulting

CGT Small Business Concessions - Selected Practical Issues - Presented by Rob Warnock, CTA, Bernie O'Sullivan Lawyers

CGT Rollover – An SME's Perspective - Presented by Stuart Glasgow, CTA, Mutual Trust

Succession Planning to Avoid Disputes Between Trustees and Beneficiaries - Presented by Sam McCullough, ATI, Worrall Lawyers

Self-funding a Private Group Business or Investment, Including Div 7A and Trust Considerations - Presented by Greg Nielsen, CTA, Pitcher Partners

SMSF Participation in Private Business - Presented by Matthew Andruchowycz, CTA, DMAW Lawyers

Digital and Technological Disruptors to Your Business – How to Prepare for and Manage Them - Peter Williams, Deloitte

Tax Issues for Digital Business - Joanne Dunne, CTA, Minter Ellison
Find out more about the bundle, and watch a free five minute preview of each, on our website.