Last Thursday 18 June 2015, Tax Institute President Stephen Healey CTA, National Councillor Tim Neilson CTA, Tax Counsel Thilini Wickramasuriya FTI and myself all attended the ATO's National Tax Liaison Group meeting. At the meeting, a number of issues were covered, including:
Treasury provided an update regarding emerging themes coming through from submissions received so far in response to the "Re:Think" Tax Discussion Paper, which included broad agreement that the tax system is too complex, and noted there were divided views around reform of certain areas of the system including corporate tax, small business tax and GST;
An update from the ATO on its 'Reinvention' program discussed with NTLG members;
A progress report on the 'Review of ATO Advice and Guidance' that has been running over the past few months, as well as the 'Renovating ATO Rulings' project on which The Tax Institute is working closely with the ATO; and
The ATO provided an update on the progress of the review of the consultation framework for which we should shortly see the outcome.
We will continue to update and involve members as these matters progress.
Also, members should note that on Wednesday this week, the Tax Laws Amendment (Small Business Measures No. 3) Bill 2015 was introduced into Parliament just before Parliament rose yesterday. The Bill introduces the following 2015-16 Federal Budget measures:
the 5% tax offset for unincorporated small business entities (capped at $1,000);
the immediate deduction for professional costs for new small businesses; and
the FBT exemption for portable devices for small businesses.
However, we are not going to see legislation bringing in the CGT rollover relief for small businesses who restructure until Parliament next sits in Spring, which begins on 10 August.
As always, members are invited to contact us via the Tax Policy inbox regarding any policy and advocacy matters.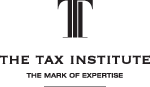 Stephanie Caredes CTA is a Tax Counsel of The Tax Institute.
The Tax Institute
is Australia's leading professional association in tax. Its 13,000 members include tax agents, accountants and lawyers as well as tax practitioners in corporations, government and academia.