They say there is no rest for the wicked. I'm not sure about that. What I am sure of is that there is no rest in the constantly spinning world of tax, whichever way the axis is tilting.
This week, The Tax Institute lodged its submission on the exposure draft legislation making changes to restore integrity into the consolidation regime. Our submission is available here.
We also lodged our submission on the exposure draft providing look-through CGT treatment to earn out arrangements, one of our bigger concerns here being in relation to the narrow application of the treatment. Our submission is available here.
For members who work with non-profit organisations, it is worth noting that there is an apparent trend for the States and Territories to look to review the concessions they provide to charities and non-profit organisations. Western Australia has recently passed legislation to tighten the availability of concessions. The Northern Territory has introduced a Bill to do the same. The ACT is also considering making similar changes. As such, we have written to the ACT this week commenting on the proposal. A copy of our letter is available on our website.
Please see below for other recent Tax Policy and Advocacy activities.
Should you wish to contact the team about any policy matters, please feel free to do so via the Tax Policy inbox.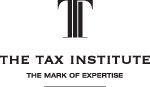 Stephanie Caredes CTA is a Tax Counsel of The Tax Institute.

The Tax Institute is Australia's leading professional association in tax. Its 13,000 members include tax agents, accountants and lawyers as well as tax practitioners in corporations, government and academia.