Andrew is a NSW Barrister specialising in state tax disputes, particularly land tax. He has been affiliated with The Tax Institute for more than 20 years.
What does the 15th Annual States' Taxation Conference mean to you, and more broadly, to the tax industry?
Frank interaction between tax advisers and revenue offices about important practical and technical issues for the greater benefit and understanding of all parties.
What is the topic that you are presenting and what can attendees expect to learn?
I'm presenting on contemporary land tax issues and they can expect practical and technical insights into commonly misunderstood and disputed land tax issues.
What new or hot topics will you cover?
Exemptions for primary production land and principal place of residence.
How will attending your session help delegates help their clients?
Better understanding of practical and technical issues and how to approach them.
Which other sessions at the conference are you most interested in attending?
Sessions on duties and recent developments.
What do you like to do when you're not knee-deep in tax?
Cycling and travel.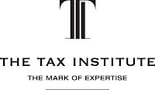 Join us in Canberra for The Tax Institute's 15th Annual States Taxation Conference. With an expert team of leading tax professionals shaping the content and a growing list of delegates who are amongst the best and brightest in the tax profession, the National Convention is undoubtedly the premier taxation conference in Australia.