Why did you choose to study with The Tax Institute?
The CTA program and the Tax Institute was recommended to me by a colleague.
Why did you choose to study?
I thought that the CTA program would give me the best qualification going forward. I also used the introductory unit as a refresher prior to re-starting in the workforce after time off having a family.
What was the most important outcome of studying?
The CTA1 and CTA2 units gave me excellent information and learning in order to prepare for my return to public practice. I returned to work early this year after completing them in 2014 armed with up-to-date knowledge and information in the taxation field.
In your opinion, what separates The Tax Institute's education programs from other providers?
The Tax Institute program is flexible and features industry-specific information relative to the needs of accountants and tax professionals.
How has your study with The Tax Institute benefited your career objectives?
I have found the CTA1 and CTA2 courses invaluable in providing me up-to-date information in the taxation field. I often refer to the texts and course materials in the course of my daily work routine.
How did your study fit in with, and support, your career?
At the time I undertook the study last year, I was not working, however I was running a busy household with 3 children under 6. The flexible online delivery and webinar format was fantastic in allowing me to complete my studies in my own hours and timeframes.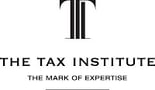 Take the next step in your tax career with the CTA1 Foundations.

Find out more.