In the summer of 1979, The Boomtown Rats famously sang "I don't like Mondays".
Monday is not usually our favourite day of the week either, but next Monday will be no ordinary day. It could be the genesis of significant changes in our tax system. We welcome the announcement of Monday, 30 March as the date for the release of the Federal Tax Reform White Paper discussion paper.
The Federal Treasurer, Joe Hockey, announced the release date at The Tax Institute's 30th National Convention on the Gold Coast last week. The Tax Institute is primed and ready to be a sound voice in this pivotal debate on reforming Australia's tax system.
The time for tinkering around the edges of our tax system has now passed. We hope that the discussion paper provides a basis for a holistic debate. It is time to step back and ask the difficult questions: Is our tax system simple, equitable and efficient? How do we balance these goals? What changes are necessary to strike the right balance?
One thing is clear, we need your assistance and insight in this process. Once you have had a chance to read the discussion paper, please share your ideas with us at Tax Policy.
Tax Disputes
Yesterday, Mr Bert van Manen, Chair of the House of Representatives Standing Committee on Tax and Revenue, tabled the Committee's must-anticipated report on tax disputes.
The Tax Institute submission and evidence in relation to this inquiry is referred to extensively throughout the report. Consistent with our submission, the Committee's recommendations included the appointment of a separate second commissioner to deal with tax disputes, considering further direct and early engagement for disputes with all taxpayers, and considering more flexible timeframes to respond to ATO information requests.
We now await the Government's response to the recommendations of the Committee.
The Committee's report and our submission in relation this inquiry can be found here.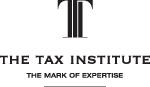 Thilini Wickramasuriya FTI is a Tax Counsel of The Tax Institute.

The Tax Institute is Australia's leading professional association in tax. Its 13,000 members include tax agents, accountants and lawyers as well as tax practitioners in corporations, government and academia.