At The Tax Institute's 30th National Convention this week, Commissioner of Taxation, Chris Jordan AO, unveiled the "Reinventing the ATO" blueprint. The blueprint contains the ATO's program of change and describes the kind of experience that taxpayers and tax professionals can look forward to having when they deal with the ATO. There is emphasis on ease-of-use, efficiency and removing unnecessary and burdensome reporting and regulations.
We welcome the release of the ATO's official plan to improve its operations and processes. The introduction of new initiatives, such as issuing 'OK Letters' to eligible taxpayers for their 2015 income tax returns to confirm they will not be subject to any future compliance activity, is a welcome move. The initiatives contained in the blueprint show the ATO is taking a proactive approach to alleviating the compliance burden on taxpayers, though there is still a long way to go.
A link to our media release is here.
Members who are interested in finding out more about the ATO's blueprint can find more information here.
Other news
In other news, the House of Representatives Tax & Revenue Committee met on Wednesday 18 March in relation to its inquiry into the "Annual Report of the Australian Taxation Office 2014". The Tax Institute made a written submission to the Committee in relation to this inquiry. Our submission is here.
We also lodged our submission with the ATO in relation to their initiative on "Single Touch Payroll". Though supportive of the initiative as it may be beneficial for many businesses, we have some concern that the initiative may not necessarily reduce red tape for small businesses. A link to our submission is here.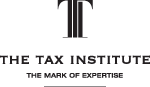 Stephanie Caredes CTA is a Tax Counsel of The Tax Institute.

The Tax Institute is Australia's leading professional association in tax. Its 13,000 members include tax agents, accountants and lawyers as well as tax practitioners in corporations, government and academia.