Patrick is Head of Tax at Suncorp Group Ltd with over 20 years of financial services experience both in Australian and the UK.
How long have you been affiliated with The Tax Institute?
I've been affiliated with the Tax Institute for over 8 years.
What does the Financial Services Taxation Conference mean to you, and more broadly, to the tax industry?
Excellent opportunity for industry leaders and peers to share information and insight, across various issues affecting Financial Services and the economy as a whole.
What is the topic that you are presenting at the Financial Services Taxation Conference and what can attendees expect to learn from your session?
The Financial Services Tax Function in a Changing World. I will cover practical experience / insights to working with "offshore" partners in the preparation of tax effect accounting and income tax return work papers. Attendees can expect practical insights into challenges for tax functions and some of the changes.
How will attending your session help delegates help their clients?

Practical examples/insight, together with various professional services insights.
Which other sessions at the conference are you most interested in attending?
The Politics of Taxation Reform
What do you like to do when you're not knee-deep in tax?
Travel overseas with my wife and four children.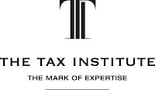 Join us on the Gold Coast for The Tax Institute's 2015 Financial Services Taxation Conference, Australia's leading financial services taxation conference.