Though the calendar year is drawing to a close, the level of activity at the Institute certainly is not. October is one of our busiest months for significant conferences and events, and ones in which I hope many members had a chance to participate.
Launch of the Graduate Diploma of Applied Tax law
The official launch of the Graduate Diploma of Applied Tax Law occurred on 14 October 2014, and it was only made possible by the Institute achieving the status of a "higher education provider". This is by far the most significant achievement of the Institute in education to date and one for which a number of individuals, including Professor Dale Pinto and the Institute's General Manager Education and Professional Standards, Ruth Ferraro, deserve recognition.
There are evermore pressures on experienced tax professionals to keep up-to-date, and for new entrants to the profession to find a high-quality pathway to recognition of their professional status. The Graduate Diploma offers candidates a direct pathway to becoming a highly-skilled leader in tax.
For members interested in finding out more about the Graduate Diploma, refer to the "Graduate Diploma of Applied Tax Law" page on the Institute's website.
2nd Annual Tax Forum in Victoria
The 2nd Annual Tax Forum, which was held in the Melbourne CBD, was a huge success for our Victorian members. I think that, while this event continues to grow in popularity, the Institute is unlikely go back to holding residential format conventions in Victoria away from the city. I say more about this below.
The keynote speaker, Second Commissioner Andrew Mills, CTA (Life), talked of tax from both sides — the profession and the administrator. He provided members with some interesting insights into these two different perspectives of tax. For interested members, Second Commissioner Mills' speech is available on the ATO website.
Delegates also had the opportunity to gain insights from the Chair of the Board of Taxation, Teresa Dyson, CTA, in particular concerning current reviews that the Board is undertaking on two issues of significant interest to our members — the review of tax impediments facing small business and the Div 7A review. We look forward to hearing the results of these reviews.
Tasmanian State Convention
Closely following on the heels of the 2nd Annual Tax Forum in Victoria was the 2014 Tasmanian State Convention, which I also attended. The Tasmanian State Convention was at the Country Club in Launceston this year, which is a relaxing location.
The Tassie convention is always a great opportunity for our Tasmanian-based members to come together, but over the past two years, a number of Victorians have also ventured across Bass Strait to attend.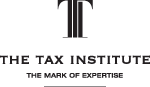 Michael Flynn CTA is President of the National Council at The Tax Institute.
The Tax Institute is Australia's leading professional association in tax. Its 13,000 members include tax agents, accountants and lawyers as well as tax practitioners in corporations, government and academia.