It's crucial that the government takes a whole-of-nation approach to addressing the myriad issues raised in the Henry Review.
The government's much anticipated Tax Reform White Paper, which I noted in my previous column, is an ideal forum to deal with these broader issues. In our recent federal Budget submission, we called for reform of taxation of trusts to be dealt with as part of this process. Reform of the rules governing the taxation of trusts is essential to provide certainty to the thousands of taxpayers that use trusts, reduce compliance costs and prevent outcomes that are inconsistent with the policy intent.
Reform of state taxes to create a more efficient tax system while boosting investment and growth should also be addressed as part of this consultation. By taking a leadership position on state tax reform, the government has an opportunity to bring the states on board with a unified vision for tax reform in Australia. Potentially, this could lead to a greater role for consumption taxes such as the GST, and replacing inefficient and complicated state taxes.
The government's red tape repeal days are a welcome development but genuine deregulation of the tax system is yet to come.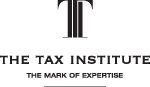 Michael Flynn CTA is President of the National Council at The Tax Institute.
The Tax Institute is Australia's leading professional association in tax. Its 13,000 members include tax agents, accountants and lawyers as well as tax practitioners in corporations, government and academia.