On Wednesday 5 March 2014, our President Michael Flynn CTA, Vice-President Stephen Healey CTA and Senior Tax Counsel Robert Jeremenko CTA attended the ATO's National Tax Liaison Group meeting.
Being the peak consultative forum of the ATO involving senior representation from both the ATO and Treasury, it is the forum where matters of strategic importance to the taxation system are considered.
At this meeting, a variety of strategic and policy-related issues were discussed, including:
Progress of Treasury's work program resulting from the un-enacted measures list that was issued late last year;
Treasury and ATO activities in relation to G20/OECD/BEPS matters;
Strategic matters including an update on the Tax White Paper process and the Government's deregulation initiative;
Recent internal reorganisation of business lines within the ATO;
The new Business and Industry Expertise register; and
ATO practices following the decision in Macquarie Bank Limited v Commissioner of Taxation [2013] FCAFC 119.
The minutes from this meeting should be available on the ATO website in the coming weeks.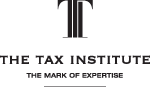 Stephanie Caredes, CTA is Tax Counsel of The Tax Institute.
The Tax Institute is Australia's leading professional association in tax. Its 13,000 members include tax agents, accountants and lawyers as well as tax practitioners in corporations, government and academia.